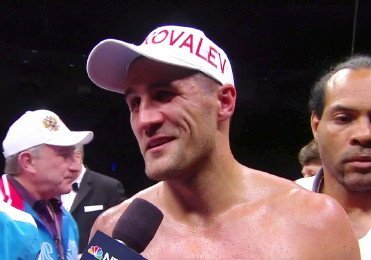 Ft. Lauderdale, FL: WBO Light Heavyweight Champion Sergey "Krusher" Kovalev is truly under the microscope as he prepares to defend his title against Cedric "L.O.W." Agnew on March 29th at the Ballroom at Boardwalk Hall live on HBO Boxing After Dark. For the past two days HBO cameras have filmed "Krusher" at his training camp in Ft. Lauderdale, FL. Although this is the third time Sergey will appear on HBO Boxing After Dark, it is his first appearance in the main event. As a result, this is Kovalev's first experience with a camera crew there to record his every move.
Previously, the undefeated Russian has not been subjected to this level of media attention. While he remained fairly anonymous in his adopted country, signs of his increasing fame are everywhere. For example, a billboard for the event hangs near the entrance to the Lincoln Tunnel. Numerous press appearances have already begun, including one on ESPN.com's Making the Rounds on March 4th.
And of course the press has been consumed with the possibility of a match-up between Kovalev and Adonis Stevenson down the road.
In the midst of so much unfamiliar attention in the run up to his second title defense, questions linger about whether or not "Krusher" can stay hungry and stay focused. According to Main Events' CEO Kathy Duva, "Once a fighter becomes more comfortable with his status as a world champion, some can be tempted to lose focus and get distracted by all the attention. He can't always walk down the street without being recognized anymore, but luckily Sergey has managed to stay focused on Agnew and winning on March 29th."
According to Kovalev's trainer, John David Jackson, "Sergey is on course. He is a really hard worker. He is definitely training hard for this fight. He is doing what he is supposed to do." When asked whether or not the cameras were affecting Sergey's ability to concentrate in camp, Jackson replied, "He probably loves it. They stay out of our way so it is just like any other training camp." Kovalev also assured that he is not distracted by the cameras. "I am already used to them being there. They don't bother me at all."
"Krusher" Kovalev
Photo Credits:
Rich Graessle/Main Events
"Krusher" will face a tough challenger in the undefeated Agnew. As he heads into the fight of his life, Agnew has exhibited incredible confidence that he can stand toe-to-toe with the "Russian Wrecking Ball." Jackson elaborated, "The key to this fight for Sergey is to be more strategic offensively. There isn't much film on Agnew but we are approaching this fight like we do all the others. Sergey will do his thing." According to Kovalev, "I feel good. Everything is normal. I feel no pressure and everything is going by the book."