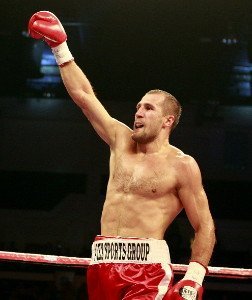 (Photo credit: Eoin Mundow/SEEN Sport Magazine) Undefeated Russian Light-Heavyweight Sergey Kovalev served noticed to the rest of the fighters at 175lbs and answered a lot of questions about his ability in his four round destruction of belt holder Nathan Cleverly of Wales. Cleverly's come forward in your face style played right into the strengths of Kovalev and he was in trouble from the start.
The 3rd round saw Cleverly dropped twice by not just one shot but the barrage of punches that the Russian was throwing and in the 4th the ref stepped as Cleverly had nothing left to offer.
Coming into the fight even though Kovalev was the betting favorite there were plenty of questions you could of asked of his quality of opposition faced especially, after Gabriel Campillo was knocked out on friday night in Chicago. In a less than deep Light-Heavyweight division Kovalev, for me at least, has now propelled himself to the top passing the ageless Bernard Hopkins and hard punching Adonis Stephenson because make no mistake Nathan Cleverly was a legit fighter in the division.
Now the next question to ask is who is out there that could , and crazy enough to, fight Kovalev in his next bout. The only fight out there that would offer a real test to Kovalev would to take on the winner of the Adonis Stephenson -Tavoris Cloud fight next month both of whom you would have to think would be under dogs against Kovalev, especially Cloud. Outside of those two you could see a scenario where the Russian takes a stay busy fight while waiting to fight the winner of Murat-Hopkins who fight in late October. Then there is always Chad Dawson who may need to try and take on a guy like Kovalev to try and jump start his career after his tough loss to the aforementioned Stephenson.
This is usually the time where people will say to slow down on the hype, they will say that Cleverly is the perfect opponent for a guy like Kovalev too look good against and so on but, when you look around the division unless Kovalev can drop to fight at 168 who in the division would you pick against him. Kovalev is 30yrs old and only has 23 fights in his career so unless someone coming up the pipe is something special we could be seeing Kovalev dominate this division for the next few years.
Shaun Ramirez @supershauntendo