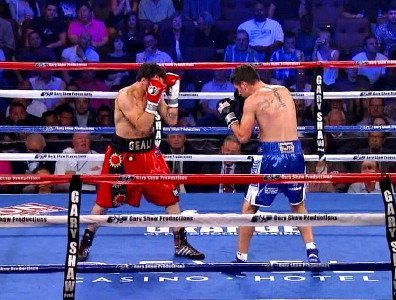 Darren Barker (26-1, 16 KO's) defeated IBF middleweight champion Daniel Geale (29-2, 15 KO's) tonight by a 12 round split decision to win his IBF 160 lb. title at the Revel Resort, in Atlantic City, New Jersey, USA. Barker got the decision by the scores 114-113 for Geale, 114-113, 116-111 for Barker.
Much of the fight was toe-to-toe action with not much in the way of defense being displayed. Geale used a lot head movement, but he was still hit a lot by Barker's shots. Barker threw a lot of shots, so it didn't matter that he was missing punches every now and then because he more than made up for it by his sheer volume of shots thrown.
Barker came close to being knocked out in the 6th when Geale landed a left hand to the solar plexus that sent Barker down on the canvas on all fours. Barker grimaced in pain until the count of 8, and was able to continue fighting.
Geale seemed to faced after the 6th, and he let the fight get away from him by being too economical with his punches after having Barker hurt.
In the 10th, Barker was cut on the left corner of his eye, but it wasn't a bad cut and he was able to fight without it bothering him in the 11th and 12th.
Geale fought well in the 12th and had Barker hurt. However, Barker did a good job of grabbing Geale by the head in headlocks a number of times to keep him from punching.
—
Former EBU super bantamweight champion Kiko Martinez (29-4, 21 KO's) wore down the inexperienced IBF super bantamweight champion Jhonatan Romero (23-1, 12 KO's) and stopped him in the 6th round. Martinez hurt Romero along the ropes, and then landed at will on him until the referee stopped the fight at 2:40 of the round.
Romero showed good power, and nice foot movement, but he didn't fight well in close. Martinez was able to back Romero to the ropes, and get the better of him at close range with body and head shots.
—
Other boxing action on the card:
Jonathan Maicelo KO 10 Alejandro Rodriguez
Thomas Dulorme TKO 8 Francisco Figueroa