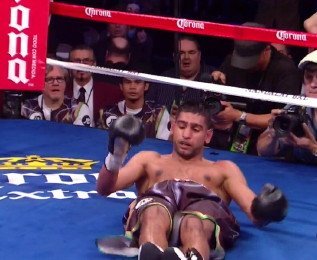 By Michael Collins: Former IBF/WBA light welterweight champion Amir Khan (26-3, 18 KO's) will unveil his new defensive skills learned from his new trainer Virgil Hunter when Khan faces 5'6″ lightweight Carlos Molina (17-0, 7 KO's) in December in a still to be determined date. December 15th is the most likely date for the Khan-Molina fight, and it's still not official that the fight will be aired on Showtime in the United States, although that's what's being said.
Khan said to Sky Sports News "I'm going to work on a new defense, new tactics for the next fight…I think Virgil Hunter will bring out the best in me…I was winning the fight against Danny Garcia quite easily and then I started to getting into a fight with him which is not my stye."
Hunter is a trainer that is known for his ability teach defensive techniques. He did a great job on building WBA/WBC super middleweight champion Andre Ward from a young fighter to a champion. However, Hunter can teach things but Khan has to be willing to learn what he's being told and apply in the ring. Teaching skills like defense takes a long time because a lot of fighters tend to fall back into their old habits when the going gets tough and they start getting hit.
If you look at any of Khan's fights in his pro and amateur career, he's frequently responded with flurries after he would get hit hard by an opponent. It's pretty second nature to Khan. When he gets hit, he doesn't try and set a trap or avoid getting hit again. Instead he looks to throw a flurry. The crowd noise seems to spur him on to where he does things that aren't wise in the ring. Can Khan shut out the crowd and resist retaliating when he gets hit?
Probably not. Those things are too wired into Khan's mind for him to resist and even if he can get a control over himself for a round or two, he'll eventually snap back into what he was before and then likely get knocked out again. Carlos Molina won't be the one to KO Khan. Golden Boy Promotions has done some extra careful selecting in choosing the light hitting and smaller Molina for Khan to beat up in December. This is just a rebuilding fight for Khan, and it's not intended to be competitive. Molina's unbeaten record is meaningless because he's never fought a world class opponent before. You can really consider Molina's records as 0-0 going into this fight with Khan, because that's pretty much what Molina is, a fighter making his debut against top level opposition. He doesn't stand a chance judging by how average he's looked in past fights.