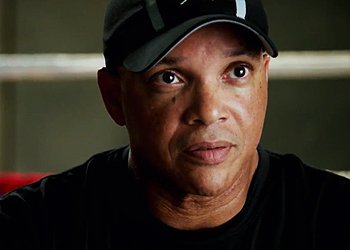 by Robert Jackson: News Flash – Amir Khan has left the Freddie Roach camp and now trains under Andre Wards' trainer Virgil Hunter. Also part of the Hunter camp are fighters Mike Dallas Jr, and Alfredo Angulo – both of whom turned to Hunter after 'falling hard' under their previous trainers. Last time we saw Khan in the ring he was getting KO'd by WBC 140lb Champion Danny Garcia. During that fight Khan abandoned his boxing pedigree showing a lot of heart to engage in an exciting street fight, to his own disadvantage.
Also during that fight Freddie Roach was unable to get Khan to follow the game plan and was unable to tell Khan anything in the corner that Khan would obey. Instead Khan threw caution to the wind and engaged in the type of battle that gave Garcia the advantage. After that loss Khan's team approached Roach with new terms which included making Khan his TOP priority demoting other Roach fighters including Manny Pacquiao to lower priority to make Khan the TOP dog. To this Roach refused.
After his refusal Team Khan underwent a search for a new trainer, one who could help Khan improve his skills especially his defense. Reportedly Team Khan considered several veteran trainers including Floyd Mayweather Sr., Emanuel Steward, Virgil Hunter and Ronnie Shields, finally settling for Virgil Hunter due to his low key approach and smaller stable of fighters. Also rumored is that the Amir Khan/Virgil Hunter audition went well during an initial training involving the two in early September, where both men hit it off well. Camp Hunter Top Dog, Andre Ward also gave the Hunter/Khan collaboration his blessing.
Now that the decision has been made how does this move help Khan?? In the Wild Card Gym Khan had access to very good coaching and sparring including Manny Pacquiao, Vanes Martirosyan and others, the same will be true in Oakland Ca with Hunter, including Angulo, Dallas and possibly Ward. Hunter uses various routines as do all trainers to improve a fighters defense first and foremost. As seen with Andre Ward who's defense is as formidable as his offense, he's very polished defensively under Hunter's watch. Holes in Mike Dallas' game have been plugged since Dallas has moved to the Hunter camp with Dallas still being a work in progress. Another thing that Hunter brings to the table is teaching his fighters how to think on their feet and adapt to the changing chaos of fight a skill that Khan desperately needs. Hunter teaches his fighters to maintain their poise and bearing under the most trying situations, a skill that Khan could use to replace his habit of running when under pressure .
I've always thought that Khan's biggest problem was his ego, i.e. thinking that he was a better fighter than he really is. Khan was never in Mayweather's league and sparring with and holding his own against Pacquiao didn't mean he was as good as Pacquiao either. If Amir Khan can keep his mouth shut and his ears open I think he can learn something, improve and regain the ground he once had as a fighter. Presently he's scheduled to make his return against Carlos Molina (not the same fighter that James Kirkland fought) who'll be moving up from 135lbs to face him. This will be a good test to see how well Khan and Hunter are working together and whether Hunter can help Khan improve his skills. But with any trainer it takes more than one fight for everything to come together, so if Khan is expecting miracles overnight he will be disappointed. Fans will probably see little improvements from Khan this first fight out with more to come if he stays patient, listens, and hangs in there.