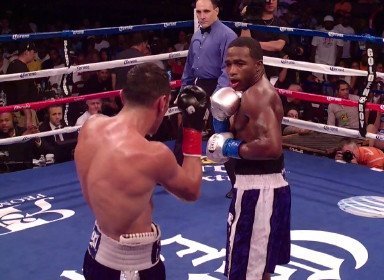 By Rob Smith: Adrien Broner (24-0, 20 KO's) isn't worried in the least about the so-called huge power of his opponent WBC lightweight champion Antonio DeMarco (28-2-1, 21 KO's) going into their fight next month on HBO at the Boardwalk Hall, in Atlantic City, New Jersey. The way that the 23-year-old Broner sees it DeMarco isn't going to be able to land his big his big power shots in the fight because Broner will pick them off or make him miss entirely.
Broner said to RingTV "I don't think that this guy [DeMarco] wll be able to touch me…He's going to try to come in and do some different things…but at the end of the day once you get hit… you back to what you know."
I really don't see DeMarco doing anything different than what he's always done. If DeMarco is going to try anything different in this fight it'll probably be in trying to put more pressure on Broner by cutting off the ring and forcing him to fight in an all out war. That's about the only thing that DeMarco can really tweak in his game. He's not real fast and he's not quick on his feet. His game is already 100% pure offense, and the only thing he can do any different is to fight harder or back off.
Somehow I don't see DeMarco doing that because Broner will pick him apart with his faster hands and quick single shots if he tries that. It's pretty obvious that DeMarco will try and use the blue print that former Broner opponents Daniel Ponce De Leon and Vicente Martin Rodriguez created by throwing a lot of punches at Broner and pressuring him constantly. Broner stops punching sometimes when his opponents throw a lot of shots. He covers up and waits for an opportunity to land a big counter shot. DeMarco is going to get badly hurt if he tries to beat Broner by throwing a massive amount of shots. I see this as a fairly easy for Broner. He'll catch the upright DeMarco with a big shot and then finish him off with a flurry. I can't see this lasting more than six rounds.
On the undercard of the Broner-DeMarco fight will be heavyweight contenders Seth Mitchell vs. Johnathon Banks in a scheduled 12 round bout. Look for Mitchell to KO Banks within four or five rounds. Banks has good skills but he's susceptible to getting hurt from big shots, and his stamina isn't the greatest. I don't why Banks moved up in weight from cruiserweight because he wasn't spectacular even at that weight, and heavyweight he's going to be in trouble.