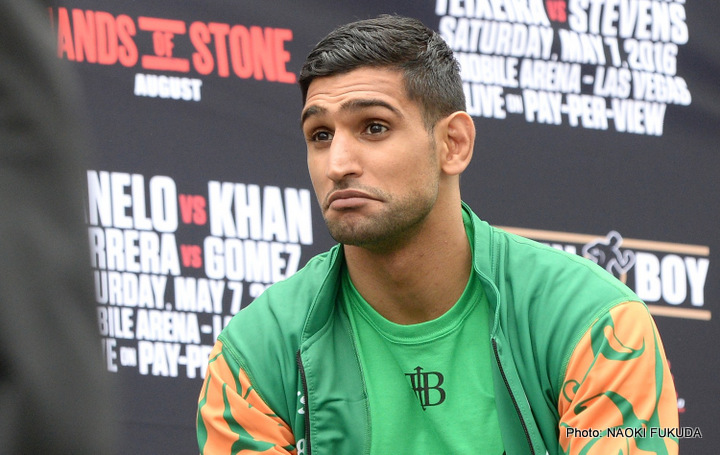 It seems there is a good chance both Kell Brook and Luis Collazo will miss out on a big-fight opportunity next year. As fans have read by now, Khan has been offered a March shot at WBO welterweight king Terence Crawford; who was supposed to be facing the faded Collazo. This fight, when put out there, received nothing but a negative reaction, and now Crawford seems to have moved on from Collazo.
Khan spoke with Sky Sports and he said that he would "rather fight these world champions, fight for these pound-for-pound titles," than get it on with countryman Brook. "Kell is always going to be there," Khan added, "And if he's not, he's not." Brook will not like hearing this one bit.
But if you were Khan, who would you fight: Crawford or Brook? If Khan lost to Crawford – and he would enter the ring as a big underdog no doubt – his ego could handle it because he would have lost to one of the very best boxers in the sport. But if Khan lost to Brook, he would likely be devastated, and have nowhere to go – certainly not into a fight with the likes of Crawford.
Both fights would see Khan earn a big payday, so money will probably not really feature in Khan's thinking. If Brook is right and Khan wants no part of him, the former 140 pound champ now has an ideal opportunity to avoid fighting him. Khan will upset promoter Eddie Hearn if he opts to take the Crawford fight over a fight with Brook, as Hearn has said many times that Khan Vs. Brook is a fight he is desperate to see; that it is a fight both men "owe" the British public.
Watch Khan take that Crawford offer instead. It would be smart business. And just imagine if you can, what would happen if Khan pulled off the upset over Crawford. Crawford is a superb fighter but he has not yet looked as great at welterweight compared to how special he was down at 135 and at 140. The thinking is, Khan's chin would let him down once again at some stage in the fight, but speed-for-speed, Khan would very possibly give "Bud" real problems.