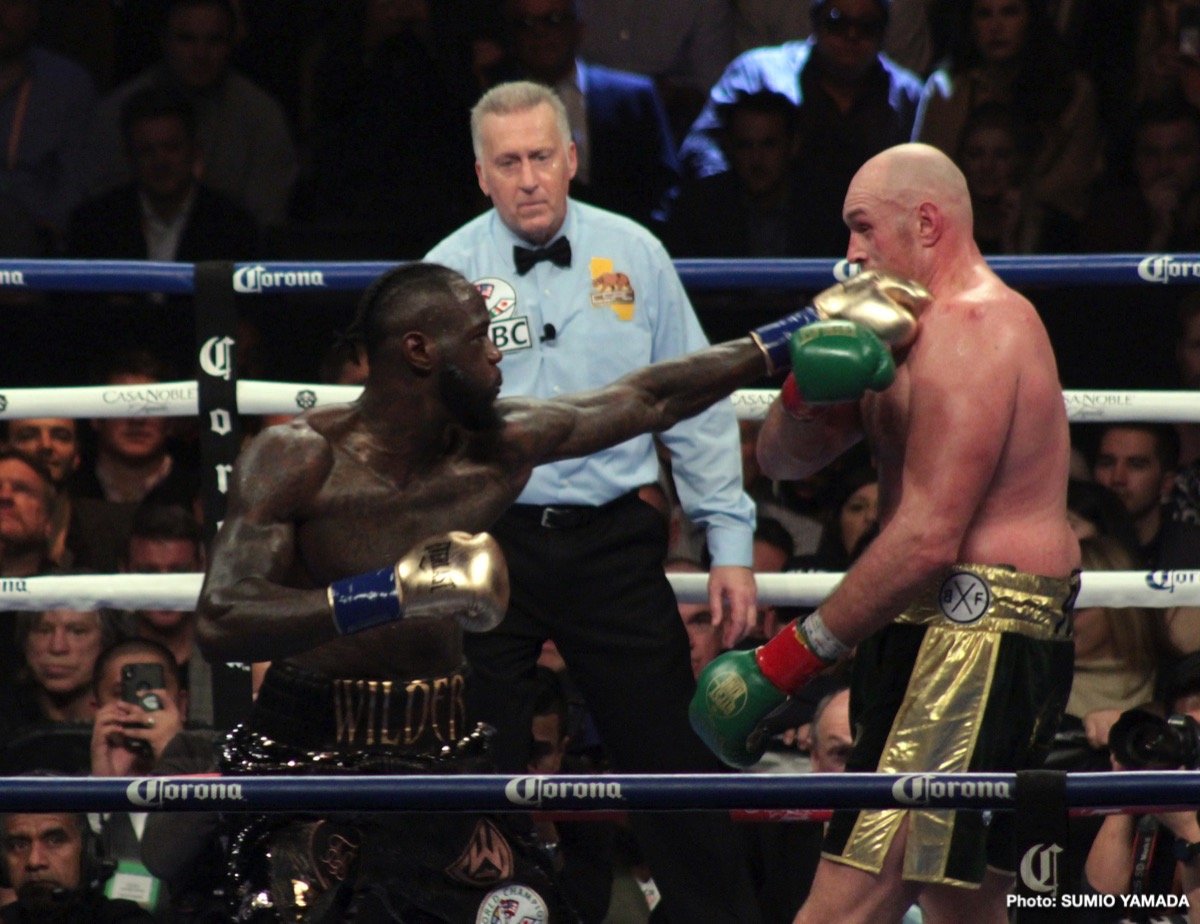 It's arguably the biggest fight that can be made in boxing right now, and WBC heavyweight champ Deontay Wilder says he wants it: Wilder-Tyson Fury II, next. Though Fury has said he doesn't think the man he outboxed for long periods to get a controversial draw with will want to share a ring with him a second time, Wilder has stated that he very much does – so he can "settle the score while the iron's hot."
Speaking on the Sirius/XM radio show hosted by Gerry Cooney and Randy Gordon, the still undefeated heavyweight champ asked why wouldn't he want that return fight.
"I want to fight the best that is willing to fight the best. Tyson Fury is willing to fight the best as he is one of them," Wilder, 40-0-1(39) said. "I would love the rematch again to end the score once and for all, to ease people's minds of this worldwide controversial decision. Who really won? I want to settle the score while the iron's hot on it. I don't see why not. Let's do it again and give the fans what they want to see. Why wouldn't I want it again? I'm the one that put him on the canvas. He didn't put me on the canvas. I'm ready for this fight to show the world who I am. We almost got it done but almost don't count. I'm ready to do it again."
Refreshing words indeed from "The Bronze Bomber." And yes, the fans DO want to see the sequel. Fight-One had it all, it was a great battle, and both men insist they can improve on their respective performances: Wilder because he now has Fury's style figured out, Fury because he will enter the ring with no ring-rust, having had more time to prepare.
Can Wilder's bombs get the job done in a rematch? Can an even sharper Fury avoid Wilder's lethal right and his wicked left? Where would, in fact where should, a rematch take place – the UK or the US? And when? Next spring would be great, and maybe Las Vegas, a natural venue for the first fight, will get dibs on the return. Here's an obvious tag-line for the rematch (if not a very original one): "Once And For All!"
Wilder says he wants it. Over to you, Tyson.