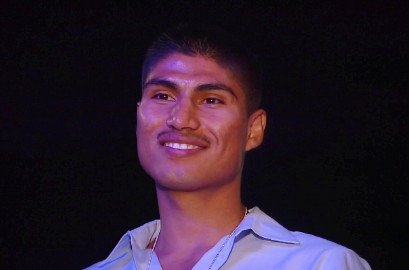 By Bill Phanco: Mikey Garcia (30-0, 26 KO's) comes from a big boxing family and he's had a ton support all throughout his six-year pro career. Thus far Garcia has been matched carefully chosen opposition to the point where his resume may not really tell the true picture of how good or not so good he is as a fighter.
On Saturday night, Garcia will be taking on WBO featherweight champion Orlando Salido (39-11-2, 27 KO's) at Madison Square Garden in New York. Salido is the exact opposite of Garcia. He comes from Mexico, and he hasn't been matched carefully.
Salido has faced the best fighters for years now in battles against Robert Guerrero, Juan Manuel Marquez, Juan Manuel Lopez, Yuriorkis Gamboa and Rogers Mtagwa. He's been in tough and he's done. Salido beat Guerrero and Lopez twice, although his win over Guerrero was later changed to a no contest after he tested positive for a banned substance. Mikey hasn't faced anyone yet that you can call a good fighter. They've just been very careful with him to make sure he doesn't have slip ups. The problem is Garcia is coming into Saturday's fight with a resume that's inflated to the extreme. If you take all the fluff on his resume you're left with a fighter with a record of 1-0.
Mikey Garcia is going to get the chance to show whether he's as good as all the hype that's centered around him against Salido, and it's going to be interesting to see if he's as good as what many people think he. Right off the bat, Garcia is going to have to be a lot busier against Salido than he normally is because he's not going to win this fight by landing a punch and then staring at Salido to see if he drops. That kind of fighting is a product of all the weak opponents Garcia has been fed by his promoter.
Mikey can punch but he's not that much stronger than Salido. Mikey's going to get drilled if he throws one shot at a time on Saturday against Salido. Garcia is going to need to up his workrate because he's way too conservative with his punches. He lands a shot every now and then, but he's not a real busy fighter. Salido is going to be all over Garcia and he's going to force him to show that he can throw more than one punch at a time.
Don't be surprised if Salido exposes Garcia in the same way he did with Lopez. This is a huge step up for Garcia because he's been spoon fed weak opposition up until now and it's going to be something of a shock for him to be in with someone that doesn't fall over when he throws his single shots. Garcia has been getting good sparring in Oxnard, but sparring isn't the same as real fights. Salido is going to be all over him and we could see Garcia get knocked out on Saturday.