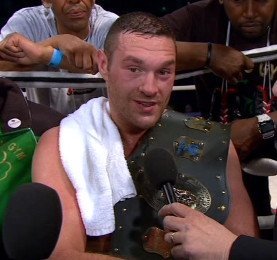 Jack Scales – 2012 proved to be a fruitful year for British boxing, in both the paid and unpaid ranks. The Olympic games showcased a plethora of young talent, whilst the professional game blessed us with emphatic performances from the likes of Carl Froch, Ricky Burns, Kell Brook, Toney Bellew and Carl Frampton. In spite of this success, 2012 still suffered its fair share of disappointment. Price and Fury's failure to fight for the British title -as a result of Fury's decision to vacate – was one of them, but hopefully this can be rectified in 2013.
With the exception of David Haye, these two behemoths are without question the best pair of Heavyweights that Britain has to offer. Additionally, because of their size and ever advancing skill-sets, they have been touted by some as potential conquerors of the Klitschkos. Are they presently capable of this? Most respected fight analysts would give you a resounding no. However, what these two fighters are capable of is offering the publican enthralling and potentially brutal contest.
Up until recently I was extremely critical of Tyson Fury and viewed him as little more than a marketable commodity. Admittedly he was always going to be a force on the domestic circuit, but I found his claims of being a future champion audacious at the very best. This was due to his clear lack of professionalism which made him resemble an out of shape doorman and not a world class athlete. Of course I understand that not all heavyweights are going to be extremely chiseled or defined, but in my opinion it is simply inexcusable for a professional sportsman to carry that much excess fat around the midriff. Tyson's lack of application in the training department had a huge impact upon his performance, consequently, his work often appeared sloppy and this is best displayed in an embarrassing youtube video where he clumsily punched himself in the face.
http://www.youtube.com/watch?v=wdFP-R_LYSM.
However, after putting in a string of uninspiring performances against the likes of Big Bad John McDermott, Derek Chisora and Neven Pajkic, in 2012 he finally appeared to come of age. In the past year he has shown a unforgiving attitude towards his training, helping him shed the lard and give much better accounts of himself in the ring. He easily dispatched of two durable journeymen in Vinny Madalone and Martin Rogan, whilst in December he put on a stellar performance, outclassing the slick Kevin Johnson who in the early stages of his career received tutelage from the great Larry Holmes. His unanimous decision over Johnson was dull at times, but this was through no fault of his own and was a result of the negative
tactics employed by the brash American. Despite the dullness, Tyson put on a virtuoso performance and for a man of his size his foot work was very gracious. This victory has put him within touching distance of Vitali Klitschko's WBC title, however, if the legendary Ukranian pugilist does retire from boxing and enter politics then he will face either Chris Arreola or Bermane Stiverne. If this does end up being the case he will have a significantly better chance of becoming World Champion in the spring or summer of 2013.
In contrast to Fury, former 'scouse plumber' David Price has been the consummate pro from the offset of his career, largely owing to the fact that he left the amateur ranks at the mature age of 26 after winning an olympic bronze medal in 2008. Following on from this, his work has always been precise and efficient, also being free of the sloppiness that has at times shadowed Fury. Additionally, his power has been frightening, allowing him to blast away his competition with relative ease. Admittedly, the likes of John McDermott, Sam Sexton, Audley Harrison and Matt Skelton are hardly world class operators, nevertheless Price has dealt with them in the manner of a future champion. Although he has looked very impressive, one has to remember that Price is still yet to be involved in a real scrap and has not entered the ring with anybody near capable of testing him. His fight against the wily veteran Tony Thompson, on the 23rd of February, should be an indicator of how good he can possibly become, especially if he KO's him, a feat which only Wladimir has managed to accomplish. If Price does win by this method, it will not only put him in line for a shot at one of the brothers, but the demand for him to fight fury will increase tenfold.
Yes, Frank Maloney has already attempted to make this fight, but his purse bids of £600,000 and £1,000,000 can be viewed as little more than a joke when considering the potential revenue that can be generated here. Furthermore, with a world title shot just within Fury's grasp I can't see this fight happening until the end of 2013. Despite this long wait, British fans will be blessed with a heavyweight world title fight to rival Lewis and Bruno's Battle of Britain(let's forget the farce that was Haye-Harrison), a fight that is still talked about after nearly 20 years.
Just like the Battle of Britain, this contest already has all the makings of a classic; Both fighters share a genuine feeling of contempt for each one another, they can bang, their chins are slightly suspect, and there exists a significant public demand for the fight. At this moment in time, i feel the odds would just be in Pricey's favour, with Fury being an extremely live underdog. Be that as it may, i expect Tyson to make tremendous improvements over the coming months, whilst i believe that Pricey is near his peak and probably won't get much better. Who wins? In my opinion it is difficult to give a definitive answer and i'll reserve judgement until after their upcoming bouts. What i am willing to say however, is that the bout will be a major spectacle and perhaps the best this meager heavyweight division has seen in over a decade. Let's hope it gets made.