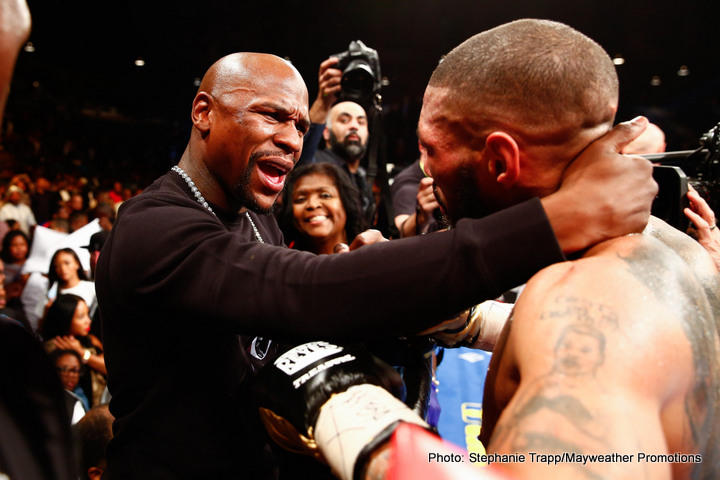 One of the old sayings in boxing is, "they all come back," and, Rocky Marciano, Gene Tunney, Lennox Lewis and a few more exceptions aside, yes, they all do. And the latest fighter being constantly asked if he will lace 'em up one more time, and who admits how he is thinking about it, is superstar Floyd Mayweather Junior. As fans know, Mayweather has been retired all of eight months, yet his name is seemingly always in the news; with the most interesting topic being, will he or won't he fight again?
Well, in speaking with Jim Gray at last night's Badou Jack-Lucian Bute fight that he promoted in Washington DC, the 39-year-old with the 49-0 record (identical, of course, to the never-to-return Marciano) said he has been speaking with CBS and Showtime. Mayweather repeated how he is content, for now, in retirement, but that "you just never know."
"Everyone is asking me, 'is Floyd Mayweather coming back.' Right now, I'm happy on this side [of the ropes], but I've been talking with CBS and Showtime and you just never know," Mayweather said. "But for now, I'm happy this side. You know, some crazy numbers have been thrown my way, upwards of , of course, nine figures. I don't know what we're going to do, but right now, I'm happy being on this side helping fighters."
Floyd went on to break down a few names as maybes as far as his plans to maybe return. Mayweather immediately ruled out a fight with middleweight Gennady Golovkin:
"How can Floyd Mayweather fight at 160 and I could never make 154?" Mayweather asked. "Danny Garcia, another name, undefeated prospect, undefeated champion in two different weight classes. Very exciting fighter. You just never know. [Keith] Thurman and [Shawn] Porter, both are exciting fighters. I like being on this side but that's a good match-up. If I came back, of course, it would have to be a nine-figure payday and probably a championship fight."
So it seems if Mayweather does come back, it will be at welterweight. Mayweather did twice win the super-welterweight title but each time – against Oscar De La Hoya especially, not so much in his fight with Miguel Cotto – he gave away plenty of weight in the ring. Mayweather recently said how he is small for a welterweight. Fans who crave seeing him against GGG can forget it. But Mayweather Vs. Garcia or the Thurman-Porter winner would be massive and, most appealing to Floyd, they would be winnable fights.
They all come back. Mayweather dropped the strongest hint yet that he too will add his name to boxing's long list of fighters who made a comeback. Next year is my guess, in May.