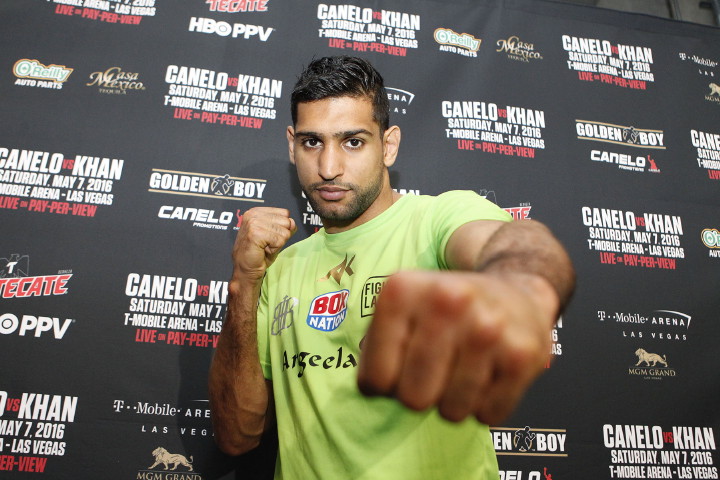 Photo: Tom Hogan / GBP – There isn't long to go now until the most intriguing and potentially exciting fight of the year goes ahead: Mexican superstar Canelo Alvarez (a fighter now known merely by his nickname, perhaps more so than any other fighter in recent boxing history) against British star Amir Khan (who really will live up to his "King" nickname if he can cause the upset in Las Vegas). The fight this Saturday, which will play out over Cinco de Mayo weekend, has split fight fans right down the middle: with half saying the fight is a good one, between two top class fighters, and the other half saying the fight is a joke, between a man who has no right fighting for the middleweight crown (Khan) and a man who should be picking on someone his own size (Canelo).
But millions will watch, there is no doubt about that. And Khan is absolutely bursting with confidence. Khan has bulked up, adding muscle to a frame that was once forced to somehow make 135-pounds, and his insists he has lost none of his incredible speed as a result. Speaking with Gareth A Davies of The Times, Khan said he will "shock the world" on Saturday, while adding the win will not come as a shock to him, as he knows he can and will win.
"I feel very strong. I think it's the strongest I've ever been for any fight. That extra bit of weight has given me an edge in power. The speed is still there as well. It's improved my stability. I am sparring 12 rounds with a lot of heavier guys. I know that when I'm in the fight it must be close to perfection. I can't give him any free shots at all. I don't think I'll be stronger than Canelo but the speed is there and I'll win the fight mentally. I'm going to shock the world. Watching Canelo fight, and seeing everything he does, I realised he's not hard to beat really. For me, it won't be a big shock because I know I can win."
Khan says his ace trainer Virgil Hunter will have a game-plan of near perfection devised and that he will be giving him "different signals" and "different words" as he gives advice during the fight. We can expect plenty of in and out movement from Khan, raids, as he lets go with an explosive burst of shots, picks up points, and then uses his fast legs to get safely out of range. The big question is, what will happen if Canelo is able to cut off the ring and trap Khan, unloading big shots? Will Canelo's physical strength come into play at some stage in the fight? One would think so. But Khan, if he can use his defensive skills, and if his chin was compromised due to having to make weight and will be far sturdier up at 155-pounds, will perhaps have Canelo in trouble.
And this is where the rematch clause Oscar De La Hoya put into the contract could prove to have been a smart move. Khan said he will fight Alvarez a second time, but that he would like to fight back in Britain afterwards.
"I'd love to fight back in Britain after this fight. It just depends on opponents," Khan said. "We know that once we beat Canelo there might be a rematch. It might be hard to get back over to England. But my first choice would be to fight in England and put on a big show for the UK fans."
If Khan does shock the world on Saturday, the rematch with Canelo would almost certainly take place in America, probably in Vegas once again. But if Khan can get that far, and have TWO fights with the man who is arguably the biggest star in the sport now that Floyd Mayweather Junior and Manny Pacquiao have retired (or have they!?) he would get himself a truly royal reception upon his eventual return to the UK. Khan could then quite literally fight anyone he wanted to.