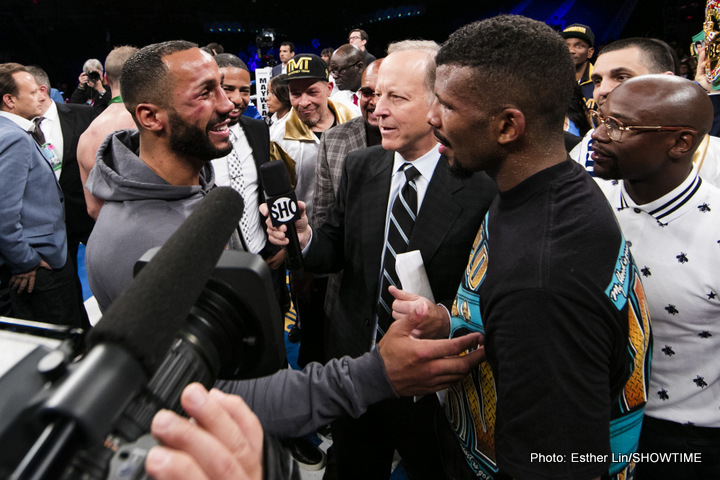 By Justin Jones – Washington, DC — Current Super Middleweight titleholders James DeGale, IBF Champ,(23-1, 14 KOs)and Badou Jack, WBC Champ,(20-1-2, 12 KOs)can now shift their focus on each other –late summer or early fall showdown – after neither fighter relinquished their belts last night at the DC Armory.
DeGale and Jack were the favorites going into their semifinal matchups of the Showtime-proclaimed 4-man 168-pound tournament, but neither fighter had an easy go at it. DeGale earned the unanimous decision (117-111, 116-112, 115-113)over a very game Rogelio Medina (36-7, 30 KOs), who pushed DeGale to the limit. Some ringside and many of the 4,135 people in attendance (booing loudly) thought the score of 115-113 was a more just score and more aligned with how the fight actually played out. Even DeGale was critical of his performance post-fight.
"I'm a bit disappointed – I should be taking out people like Porky Medina, no disrespect to him," DeGale said. "If I'm being honest, he's a very strong fighter, but skills pay the bills. I'm going to go back to the gym, I'm going to work and I'll be ready in September."
Jack seemed to have a much more decisive performance against Lucian Bute(32-3-1, 25 KOs), but he was the one who actually came away with a majority draw (114-114 twice and 117-111). The PunchStatstatistics would suggest that Jack won and pretty clearly as he outlanded Bute 278-179, connected at higher percentage (40% to 21%), and connected on a ridiculous 61% of his power punches to Bute's 25%.
"I feel I won the fight," Jack said. "He's a great guy and a great champion, but I know I won the fight."
While Bute fought his butt off and kept it close, a majority draw just seemed like another horrendous decision in Boxing, much to the dismay of Jack's promoter Floyd Mayweather, former #1 pound-for-pound fighter and future Hall-of-Famer.
"We need to get some new judges because this is not right for the sport of boxing. We want to be treated fair," Mayweather said, during Jack's post-fight interview.
Despite the controversial decisions, DeGale and Jack both made it clear that they want to face each other next in a unification bout at 168 and that's good news.
If nothing else, tonight's card showed us that the judging in boxing is still a major black eye for the sport, and unification bouts are what people want to see – the best vs the best.
Author Contact:
Justin Jones: Twitter: @Jusjones29; Justinjones2112@gmail.com
More from Justin Jones:
Adrien Broner 140.4 vs. Ashley Theophane 140 – Official Weigh-in Results
Lamont Peterson "Anxious for April 11" — Open Media Workout Photos, More!
Boxer Briefs:  Catching Up with Boxing's Heavy Hitters & Rising Stars – Bryant "By-By" Jennings
Miguel Cotto:  Puerto Rico's Shining Star
"The Alien" vs. "Superman" Coming Soon to a Theatre Near You?