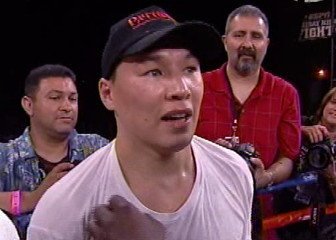 By James Slater – Though some fans were a little turned off by unbeaten pound-for-pounder Timothy Bradley after his hugely controversial points win over superstar Manny Pacquiao – most people referring to the June 2012 split decision as a blatant robbery – the subsequent time spent out of the ring by "Desert Storm" has been unfortunate. Some fans seem to feel Bradley, 29-0(12) should have raised his hands after June 9th last year, and admitted he didn't really defeat Pac-Man, but of course he didn't and who can be surprised by this (have you EVER known a winning fighter confess that he didn't deserve the victory he was awarded)?
But despite the perceived lack of sportsmanship on the part of Bradley, he is too good a fighter to have been out of action for almost a year. The good news is Bradley has an opponent all sorted out; the not so great news is the guy the WBO welterweight champ will defend against on March 16th on HBO. After the "win" over Pacquiao, it was thought the Palm Springs man would get further mega-fights. Instead, Bradley will face crude (but hugely exciting) Russian light-welterweight Ruslan Provodnikov. The 29-year-old (the same age as Bradley) from Beryozovo will move up in weight and go after Bradley's belt at The Home Depot Centre.

Beaten only once in his 23-fight career (15 KO's), via close decision to Mauricio Herrera back in January of 2011, Provodnikov can at least be relied upon to bring some heat to the ring. Bradley, though, is streets ahead of his upcoming challenger in terms of skill and talent. On paper, this one looks like a sure decision win for the always magnificently-conditioned champion. And, as raw and passionate as Provodnikov is, it is this almost foregone conclusion of a result that will likely turn off some fans. It's possible Bradley himself is far from thrilled over his upcoming fight; one that will come about after the longest layoff of his pro career. Having turned down a reported $2.3 million to take a return with Lamont Peterson (who Bradley widely out-pointed down at 140 back in December of 2009), Bradley will now pocket less for the fight with Provodnikov.
Still, Bradley will likely be itching to get back in there and fight, and though Provodnikov is far from the best opponent he has ever faced, Bradley's motivation levels should be up to speed due to the idleness he has endured. Bradley, fully rested and fully healed (he damaged both feet in the Pacquiao bout) should be firing on all cylinders and should be more than capable of giving Provodnikov a boxing lesson. Of more exciting news to fans is the bigger plan Bob Arum has for Bradley assuming he does indeed take care of business next month.
According to Dan Rafael of ESPN.com, the plan Arum has is for Bradley to face "the best available guy in the fall," before facing the winner of the expected fifth meeting between Pacquiao-Juan Manuel Marquez in early 2014. That is interesting news.
Provodnikov is a decent fighter who always gives his all. Tim Bradley is simply a higher calibre fighter altogether, who has his eyes on far bigger fights.
Prediction: Bradley to outscore Provodnikov by lopsided decision.