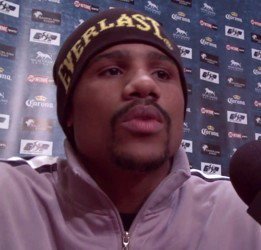 By Michael Collins: Last Saturday night, super middleweight Andre Dirrell (21-1, 14 KO's) showed boxing fans why he was so highly hyped in the past by beating an out of his class 2nd tier fighter Michael Gbenga (14-7, 14 KO's) by an impressive 10 round unanimous decision at the Convention Center in McAllen, Texas.
The 29-year-old Dirrell, who hadn't seen action in well over a year, knocked down with a right uppercut to the head in the 9th round, and Dirrell also had Gbenga hurt in the 7th and 10th rounds from blistering right hands.
Gbenga showed good power as well, but he wasn't able to land many of his shots due to Dirrell ducking or pulling his head away to avoid his power shots. He looked pretty frustrated with his inability to connect.
Dirrell's hand speed was just as fast as it was when was competing in Showtime's Super Six tournament in 2009-2010.
The one difference in Dirrell's game last night from when he fought in the Super Six tournament is he's punching with much more power now than he was then. Dirrell seems to have taken a page out of his hard-punching brother Anthony Dirrell's book by looking to set down on his shots much more.
Dirrell said after the fight to Mlive.com "The ring rust is gone. I'm feeling great; I'm in tip top shape."
Dirrell will now likely face super middleweight contender Rowland Bryant next in March. Dirrell said "We are going to get it done."
Bryant can punch as well as Gbenga, but he's easy to hit and I suspect he'll get dominated in the same fashion as Gbenga did. Bryant did give Thomas Oosthuizen some problems en route to losing a 12 round decision to him recently, so he's got a little bit of talent that could make it interesting for Dirrell.