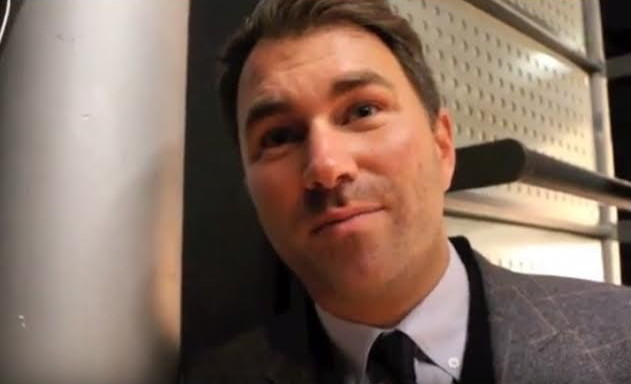 It's the heavyweight fight, arguably THE fight, regardless of weight, we all want to see: Deontay Wilder Vs. Anthony Joshua. And promoter Eddie Hearn is right now in New York, set to try his best to make it happen some time in 2018.
As per a tweet by Hearn: "I am opening negotiations here tonight for AJ to box Wilder in 2018."
This fight needs to happen, it's that simple. We've seen other big, attractive "must-see" heavyweight match-ups fail to get made in the past – most notably Lennox Lewis-Riddick Bowe from the 1990s and Tyson Fury-Wladimir Klitschko II from more recently – and we can't let this one get away.
Let's all hope the upcoming negotiations go well. As is almost always the case, it will largely come down to money, green, dough, the Benjamins. Will Wilder agree to take the kind of less than 50/50 split Hearn insists must be the case for the fight to happen? Will Wider indeed agree to travel to the UK for the fight as he has said he will do if necessary? There could be a number of sticking points to thresh out before we can get excited over seeing this fight.
But hopefully it will happen, next summer, or at the latest at the tail end of next year. Both unbeaten, big-punching heavyweights feel they will win and both are talking up a storm – Wilder, 39-0(38) especially. Just who is the A-side in this fight, Wilder or Joshua, 20-0(20)?
Hearn has other business to also attend to: his first "takeover" show will take place in New York on Saturday as his middleweight signing Danny Jacobs faces the unbeaten Luis Arias. But while he's over there in New York, Hearn will surely make the Joshua-Wilder fight his top priority.
How will Hearn and Lou DiBella get along?
Wilder is of course coming off a crushing first round wipe-out of an out of shape Bername Stiverne, while AJ is coming off that tougher than expected tenth round TKO over a game Carlos Takam. Have these respective recent performances from the two giants changed your mind at all on who wins?