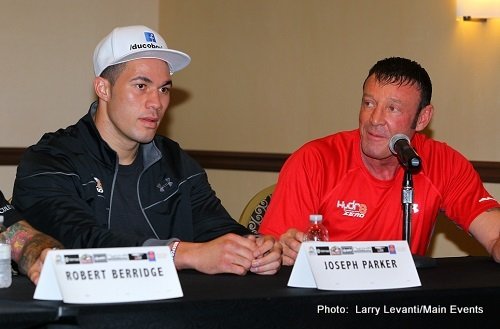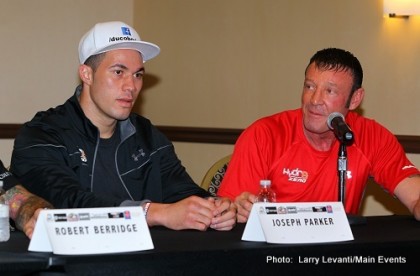 Kevin Barry, a name most familiar to boxing fans as the former long time manager and trainer of David Tua, took time out of his busy schedule to have a chat with us about another exciting heavyweight to come out of New Zealand in Joseph Parker.
Parker will be facing the very durable (and former Wladimir Klitschko sparring partner) Sherman 'The Tank' Williams at the Trusts Arena in Auckland New Zealand on October the 16th in what will only be his 11th pro fight.
Check out what Kevin's thoughts are on the potential of Parker, possible future opponents for him and the trainer that most influenced him during his coaching career.
ESB: Hi Kevin,
Thanks for making time to talk to us today. Joseph Parker is the 2nd prominent Kiwi heavyweight you've trained. I understand that you were a little reluctant to get involved, but what was it about Joseph either in the ring or his demeanour outside of it that convinced you take another shot at it?
KB: The overwhelming thing I was most impressed with from the get-go was just how fast he was and I've said this in a number of interviews, I believe Joseph is the fastest of any heavyweight in the world. There was a lot of people back in April of 2013 who were impressed with his speed but they all said 'Joseph Parker, he can't punch he can't hurt people.' Well as you know since we've worked together he's knocked everybody out. Nobody talks about Joseph Parker now about not having any power. That is the biggest thing we've worked on. The other thing that's really impressed me about him is that he is a first class young man. He's prepared to work so hard to achieve the goal.
ESB: A noticeable difference was also his body shape that changed very rapidly under you. A lot of that softer mass turned into muscle very quickly. Do you guys have a specific diet or has it just come from working day in and day out as a professional athlete.
KB: He's on a very clean diet. The thing about Joe and he'll be the first to tell you, is that he never knew how to eat properly. At some of his international tournaments in the amateurs he was out eating hamburgers before his fight! There's a lot of things such as clean eating that he's never been exposed to, that's why we're seeing the change in his body shape. That and he trains very very hard.
ESB: I know both Joseph and yourself have mentioned Lennox Lewis as a guy you would like to model his style on and you also had the privilege of catching up with Larry Holmes recently. Both of them had great jabs which you seem to be developing with Joseph. His jab seems so impressive, do you think Joseph is even aware of how much damage he can cause with the jab? Or is it something you have to keep reminding him of?
KB: Oh no, Joe knows. One of my training philosophies is the jab is never a jab, the jab is a weapon. He understands that for him to have success in fights it starts and finishes with the jab. One of the biggest compliments that was made to me was when we spent three of four hours with Larry Holmes. The first thing he said to me was this "kid can really fight, he's got a helluva jab." I believe Larry Holmes had the best jab in boxing and for him to say that was a helluva of compliment.
ESB: The Nascimento fight I thought was easily the toughest fight he has had so far and it forced him to answer some questions. He took a couple of really decent shots in the 6th and took them well. I guess in one way you don't like to see your fighter get hit but it must also be reassuring to find out that he has a decent chin?
KB: We've sparred some very very good fighters. We've done 40 rounds with Stiverne before he won the title and we all know Stiverne's a good puncher. I've never seen Joe hurt in sparring. What actually happened (in the Nascimento fight) was he turned away from a right hand and he ended up catching the full glove of that right hand and it hit his ear and it burst his eardrum which affected his equilibrium. But he went back to the corner and regrouped well.
ESB: Sherman Williams is another potential 'banana skin' type opponent. A very durable guy who has fought a lot of guys down the years and has only been stopped once. Is this a fight that makes you nervous in any way?
KB: I'm very confident going into the Sherman Williams fight. He's a durable guy, y'know Joe's on a fast track and we need to be able to take care of guys like Sherman Williams.
ESB: Without giving too much away are there any things specifically that you would like to work on with Joseph for this fight?
KB: It's very important for us that we go into every fight with a good game plan. I know what Sherman's strengths are and I know what Joseph's strengths are, we just need to make sure that we have our game plan in place to take care of anything he can show us on the day.
ESB: Should you beat Williams do you have any particular timetable in mind for when you'd like to see Joseph fighting for a title or are you still taking it very much on a fight-by-fight basis?
KB: I never go any further than one fight at a time. We know if everything goes right for this fight on October 16th we're fighting again on December 6th. Our whole focus everyday in the gym right now is on Sherman Williams. That's all we're looking at. I think we are ready to fight guys in the top ten at some stage next year. Which is very very fast for a young guy but I believe personally that he ready for it.
ESB: Obviously with Vitali Klitschko now entering politics and Wladimir getting that much older the heavyweight division looks like it could potentially be thrown wide open again very soon. The two obvious names other than Joseph's look to be Deontay Wilder and Anthony Joshua. As a trainer are you keeping tabs on those two, or will you have a closer look at them if a potential fight looms?
KB: I keep tabs on all the fighters. We'll know a lot more about Deontay Wilder after the Bermane Stiverne fight. Anthony Joshua he's a work in progress. I can see him and Joseph fighting each other at some stage when it actually means something.
ESB: In modern boxing, trainers are becoming quite well known in their own right. Are there any other current trainers out there that you specifically admire and do trainers ever swap tips?
KB: I think every trainer has their own way of coaching. People will tell you at various stages of their development they were guided and influenced by a particular style of coach. I give a lot of the respect to the late George Benton who I learned a lot off and who I think was one of the great trainers.
We thank Kevin for giving up his time and sharing his thoughts and look forward to catching up with him again as Joseph's career progresses. Check out part two of our interview where we catch up with Joseph Parker to get his thoughts on the upcoming fight with Sherman Williams.
Be sure to get updates from Kevin and Joseph on their Twitter accounts: