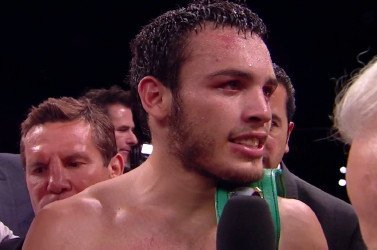 By Rob Smith: If WBC middleweight champion Julio Cesar Chavez Jr. is able to get past 37-year-old Sergio Martinez next month on September 15th, Chavez Jr. will have for the most part run out of opponents for him to face. If he chooses to stay at 160 lbs beyond that point in time he'll likely be limiting himself in terms of important fights that boxing fans to see.
At 6'0″ 180 pounds, Chavez Jr. has the size to compete at super middleweight, light heavyweight and cruiserweight. He's already too big for the middleweight division, as we've seen already with him looking like a hulk next to smaller fighters that look several weight divisions smaller than him. There really won't be any reason for Chavez Jr. to stay at middleweight once Martinez is out of the way, because all that will be left is guys like Peter Quillin, Felix Sturm, Gennady Golovkin, Daniel Geale and Dimitriy Pirog. Those are fine fighters, but none of them are really well known in the United States except with hardcore boxing fans.
Chavez Jr. really needs to move up to super middleweight after the Martinez fight so that he can take on the top guys in this division. There are a lot of fighters that Chavez Jr. can make good money against, such as Carl Froch, Andre Ward, Mikkel Kessler, Andre Dirrell, Anthony Dirrell, Edwin Rodriguez, Adonis Stevenson and Thomas Oosthuizen. This division is absolutely loaded with talent and it would be interesting to see if Chavez Jr. would succeed at this level.
Chavez Jr wouldn't have the big weight advantage that he's had in the past, so he'd have to beat guys more on talent than on size at this eight. I'd like to think that Chavez Jr. would be open to fighting at this weight, but I'm not so sure that he will. I think he might continue to battle to stay at 160 lbs as long humanly possible so that he can enjoy a big weight advantage against his opposition.