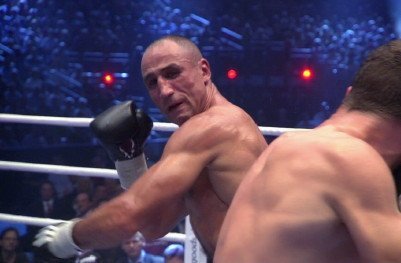 By Michael Collins: Arthur Abraham (35-3, 27 KO's) finally found success at 168 lbs in beating WBO super middleweight champion Robert Stieglitz (42-3, 23 KO's) by a 12 round unanimous decision to capture his World Boxing Organization title on Saturday night at the O2 World Arena, Kreuzberg, in Berlin, Germany. Abraham used his power punches, high guard and a lot of pressure to get the better of the volume puncher Stieglitz throughout the fight. Abraham started out slow but really came on from the 4th round until the 9th, fighting effectively with his big power shots and showing some slickness at times.
The judges scored it 116-112, 116-112 and 115-113. There was no question that Abraham was the better man, as he was able to land his power shots tonight and block many of the return punches from Stieglitz. He did, however, tired in the last three rounds, which is normal for him. Luckily, he had a lead built up by then so he didn't lose too much despite his obvious fatigue problems.
Abraham did a lot of showboating for the Berlin crowd and seemed to be really enjoying himself against Stieglitz. You really can't blame Abraham because his career was thought to be near over after getting beaten by Carl Froch, Andre Dirrell and Andre Ward in the Super Six tournament. However, Stieglitz didn't have the same kind of talent as those guys, and it made things a lot easier for Abraham to control the action with his big wind up shots.
At the end of the day, Stieglitz didn't have the power or the arm length to really worry Abraham. In the past, the 5'9″ Abraham had been easily out-boxed by the taller Ward, Dirrell and Froch, but Stieglitz didn't have the reach or the jab needed to keep Abraham bottled up on the outside like those guys had done to Abraham.
With this win, Abraham is in a great position to get a big money fight against the likes of Mikkel Kessler, Felix Sturm, Carl Froch or Andre Ward. Given how easily he was beaten by Froch and Ward in the past it's not likely that Abraham will want to tangle with either of them anytime soon if ever. What we'll likely see is Abraham fighting Kessler next or possibly Sturm. The Kessler fight would seem to be the ideal bout for Abraham, because it will be huge in Germany.
Other fights on the card:
Robin Krasniqi KO 4 Serdar Sahin
Felix Lamm TKO 4 Eloy Rebollo
Tyron Zeuge TKO 3 Carlos Caicedo
Dustin Dirks TKO 7 Sandro Siproshvili
Jack Culcay TKO 3 Frederic Serre