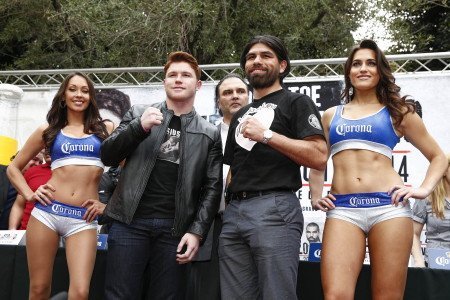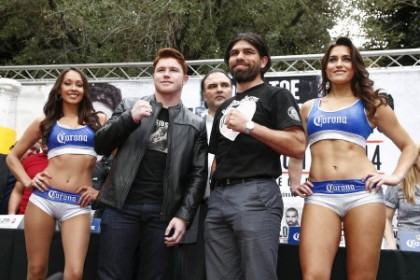 In the unpredictable sport of boxing, anything can and often does happen inside the squared circle on fight night, especially on the world class level. Although a man's fate can turn with one cracking shot on the whiskers, styles usually dictate the eventual victor and loser.
Despite being one of the hardest punchers within the talented 154 pound weight division, most boxing pundits and experts believe that Alfredo Angulo is tailor made for Canelo Alvarez's explosive counter punching prowess.
This past Tuesday night on "The Pugilist KOrner" radio show, expert trainer Joel Diaz gave us his take on the volatile March 8th PPV main event.
"Alfredo is a good friend of mine, but you know I'm always going to speak to truth about how I see things," admitted the hard working California based trainer. "I think that his personal and professional issues set him back."
After getting brutally stopped by James Kirkland in 2011, Alfredo was detained by immigration for over seven months for living in the United States with an expired work visa. The former WBO Junior Middleweight Champion wasn't released until August 14th, 2012, and didn't make his return to the ring until November of 2012.
Upon winning two "tune-up" bouts in November and December of 2012, the perennial contender suffered a controversial stoppage to current WBA interim title holder Erislandy Lara in June of last year.
The insightful boxing mentor doesn't see positive consequences stemming from his most recent activity in and out of the ring.
"Even though Alfredo has been working hard with trainer Virgil Hunter, I believe that he's lost a lot in his last two defeats and the year of inactivity," insists Joel Diaz. "After losing to Floyd Mayweather, I think this is the perfect fight for Canelo to comeback and look good doing it."
Canelo's last outing was a controversial majority decision loss to Floyd Mayweather Jr. in September of last year. Despite scoring a questionable draw on one of the judge's score cards, most ringside observers viewed the fight as a one-sided domination by the pound for pound king of boxing.
While most boxing writers and fans view the March 8th main event playing out like the former Lightweight contender turned prolific trainer, Diaz believes that his friend, Alfredo Angulo does indeed have a punchers chance against Canelo Alvarez.
"When Alfredo was training here with us, he would spar my brother Julio often," recollects the soon to be 41 year old fight trainer. "Julio used to tell me that Alfredo doesn't have much speed, but when he hits you…it feels like you're being hit with a brick."
"Thinking about his fight with Canelo Alvarez, Alfredo has heavier hands than anyone that Canelo has faced up to this point. A lot of things can happen in boxing. You see a lot of fights put together to supposedly make one fighter look good, and things go terribly wrong with one solid punch."
In August of 2013, incumbent WBC Featherweight Champion Abner Mares was making a seemingly routine title defense against massive underdog, but former champion, Jhonny Gonzalez in front of a large pro Mares crowd in Carson, California.
After catching a perfectly timed left hook to the jaw in the opening round, the defending champion lost his title by shocking 1st round knock-out to the improbable underdog. Gonzalez shocked the boxing world with one hard left hook and pulled off the biggest upset of 2013.
Diaz believes that Alfredo always carries that threat into the ring whenever he fights.
"Canelo is the superstar and will be the favorite going into the fight. But if Canelo underestimates Alfredo's heart and determination, he could be caught with something big and get hurt at any time during the fight."
Despite understanding that anything can happen in the ring at any given time, Diaz believes that Canelo will be the eventual victor on March 8th.
"I just think that this is bad timing for Alfredo Angulo. At this point in both fighters careers, I believe that Canelo will be too fast and too explosive for Angulo. I think that's why this fight was made as this time."
Joel Diaz's newly crowned WBC Lightweight Champion Omar Figueroa will be taking on Canelo's brother Ricardo Alvarez in the co-main event of the evening on March 8th, so the hard working fight trainer will be viewing the fight live at ringside from the MGM Grand in Las Vegas, Nevada.
"Omar is one of the hardest pound for pound punchers in boxing," claims the fight veteran. "I know that my fighter will stop Ricardo Alvarez within the distance to successfully defend his title."
Both fights will be televised on Showtime PPV on March 8th, from the MGM Grand in Las Vegas, Nevada.
To listen to the entire interview with trainer Joel Diaz on Tuesday's episode of "The Pugilist KOrner", please click on the attached link:
http://www.boxing247.com/2014/the-pugilist-korner-joel-diaz-don-chargin-bryant-jennings-logan-mcguinness-denton-daley-and-mario-barrios/