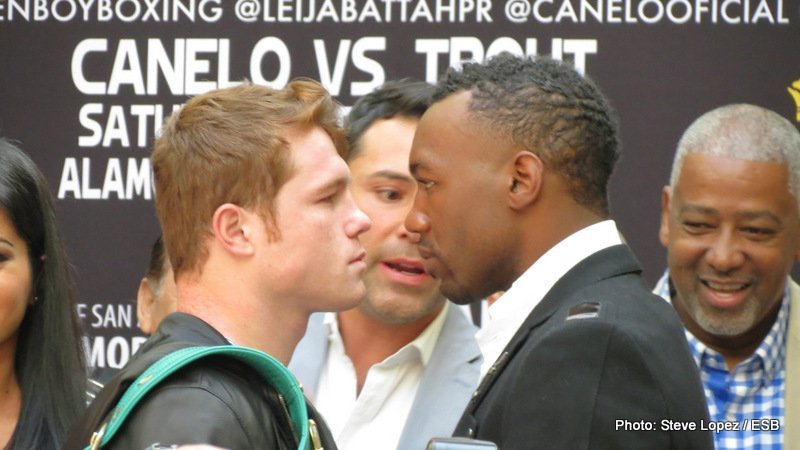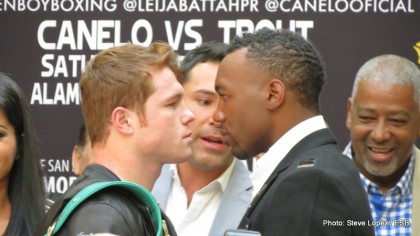 By: Steve Lopez – Day 2 of the 3-city Texas press tour for the highly anticipated super welterweight showdown between undefeated WBC Super Welterweight Champion Saul "Canelo" Alvarez and WBA Super Welterweight Champion Austin "No Doubt" Trout continued this Thursday in Houston, TX. I had the privilege to attend the conference and here are some of the highlights from the event.
With a large Latin American community, the Houston, TX crowd was undoubtedly pro-Canelo.
"Canelo! Canelo! Canelo! Canelo!"
That was the instant reaction of the crowd when Saul Alvarez took the podium on Thursday's Houston, TX Press Conference. The roars were so loud that one could somewhat feel the vibrations of the roars in the air. But before the fighters took the stand, promoters and members of each team addressed the media and the fans to hype up the event. Here are some notable quotes from the conference.
Oscar De La Hoya: "This fight could've taken place easily in Las Vegas. On Pay-Per-View. But the fact that it's going to take place in Texas, in San Antonio, not on Pay-Per-View. It'll be on Showtime. These fighters are showing the world that you can have this type of fight, this big event and not be on Pay-Per-View and not be in Las Vegas. It's showing the public, the world, that boxing is alive and well. Boxing is strong and we have the future right here."
Jesse James Leija: "Houston, it's two and a half hours to San Antonio. Don't cheat yourself out and watch this fight. It's going to be an incredible fight."
"We have a great undercard, but nothing is going to surpass this Austin Trout and Saul Canelo."
"Who says boxing is on the downfall? Boxing is on the upstream! It's never going to stop. It's the best sport in the world…and it's because of people like you. Houston, thank you very much. Thank you for having us."
Austin Trout: "The reason why Canelo made the fight happen, why Golden Boy made the fight happen: it's because of ya'll. It's what ya'll wanted and I'm glad that Saul and Golden Boy obliged to make this happen for you."
"You have two undefeated champions going to put everything on the line. I know I'm not leaving without my belt and my undefeated record. He's going to do the same thing. When those two things come together, that's a formula for an explosion. I'm ready to go through fire. I know he's ready to go through fire."
"Again, Canelo…I want to thank you for being a true champion. He could've fought anybody. He could've fought Angulo. But he didn't. It shows that he's a hungry champion."
"I'm starving. I'm not just hungy. I'm starving. I need this fight. I need this win. I want a legacy that I want to put out there."
Jose Reynoso (Alvarez' Manager): "Chavez Sr. spoke to Canelo the other day and told him: 'feats were meant to be broken.' Team Canelo is ready for that."
"We ask that everyone on April 20th to be present to witness two new records. That is 1) to defeat Trout and 2) fill out the Alamodome"
Saul Alvarez: "The only thing I can tell you is that I'm going to prepare very well. This fight is a big feat. He's a tough rival, but we're ready."
"This is more than a championship. It's personal for me. I saw him defeat my brother. I was there. I felt immensely impotent. Now that I have the chance to be in the ring with him, I will fight back."
Let's get ready for Alvarez-Trout!