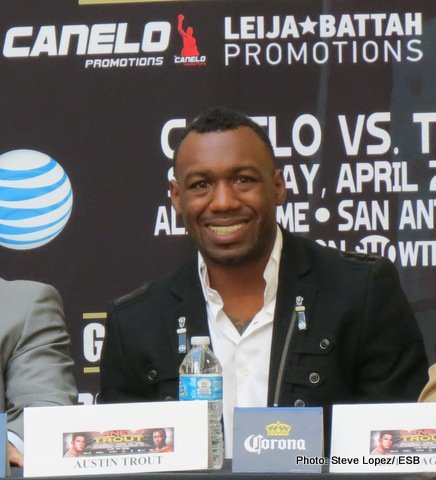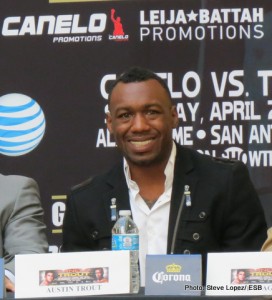 By Steve Lopez — After the press conference in Houston, TX concluded, Saul Alvarez and Austin Trout took the time to address members of the media for brief one-on-one interviews. I had the opportunity to sit down with Austin Trout to get his perspective on the fight, Canelo's mission to avenge his older brother's loss and what the future may hold for the New Mexico native.
Steve Lopez: "There's a little bit of a vengeance factor. You beat his older brother a while back. How does it feel being in the ring with younger brother trying to avenge the loss?
Austin Trout: "That's not really a factor for me. The thing that I think is cool is that I can take two world titles from two brothers. Other than that, his brother was in my way. Really, if you look at it, he was in the path to get to him. In hindsight, looking back, it was just part of the process.
Steve Lopez: "Back in December when you fought Cotto, a lot people had you as the underdog. Kind of a similar story again. I, myself, give you a great chance. In another interview, you mentioned that Canelo won't be taking advantage of the weight gain he has over other fighters. How do you think that's going to play out? Usually, he's the bully."
Austin Trout: "Right. A lot of people are trying to say that he's the stronger fighter. I don't understand where they get that from. He has good knockout power. Don't get me wrong: he's strong. But a lot of people don't understand that I've been fighting a lot of heavier guys. Super Middleweights and Middleweights. You know, my knockout ratio is not as much as his.
Steve Lopez: "During sparring, etc.?"
Austin Trout: "Right, right. My size is going to be a factor in this fight."
Steve Lopez: "What different things have you done in your training between the Cotto fight and the Canelo fight? They're both good body punchers. They both have the power."
Austin Trout: "You know, it's almost the same formula, except he (Canelo) is more intense, a bit faster, stronger, he's younger. We're doing the same formula as we did in the last camp., except we're just pushing intensity. We know he's going to come. We know he's a young, hungry lion. We have to be the bigger hungry lion."
Steve Lopez: "Without disrespecting Canelo, you know…you're fans are expecting you to win. But what would be next if you were to get past Canelo?"
Austin Trout: "Of course, first things first. If we don't get past him, nothing is happening. But to forwards, after beating a superstar like Canelo, there's no one else left but Floyd Mayweather."
Steve Lopez: "Right. We know he'll be fighting May 4th."
Austin Trout: "Yeah. I'll be there to watch."
Steve Lopez: "Do you have any plans to move up to Middleweight, Super Middleweight? Or just stay at 154?
Austin Trout: "I'll go up to Middleweight. If we can't get Floyd or something like that, I'm not opposed to going up to 160 to fight 'Maravilla' Martinez or some of the champs out there like Triple G."
Steve Lopez: "Yeah, he's making some noise right now in the division."
Austin Trout: "There's a lot of people don't want to fight him. I'll fight him."
Steve Lopez: "Last words for your fans and we'll close it out like that."
Austin Trout: "Thank you all. You guys keep pushing and great fights will continue to get made. We didn't get the Pacquiao-Mayweather, but you guys pushed for the Trout-Alvarez and I thank you for the bottom of my heart."
Steve Lopez: "Thanks a lot, Austin."