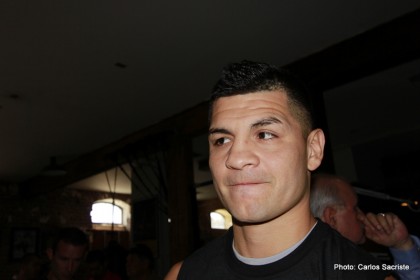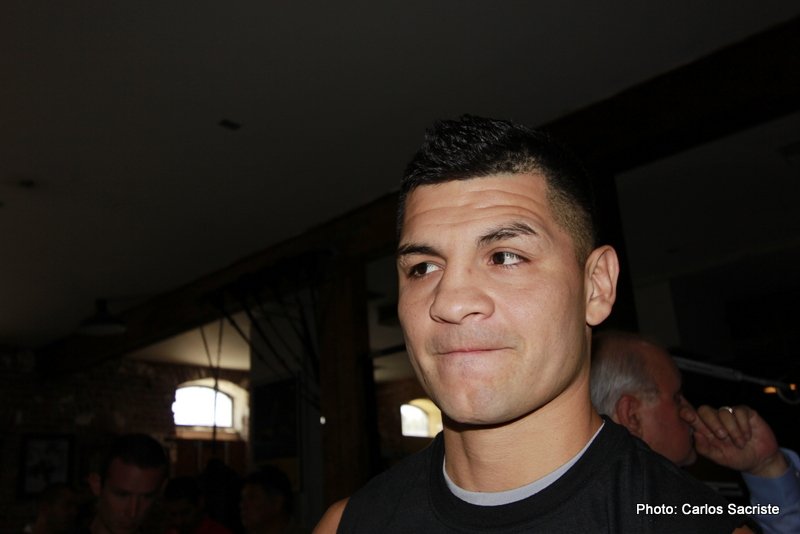 During his casual media workout before the now drama riddled, 173 pound, non-title, ten round attraction, Austin, Texas, resident Bryan Vera told anxious media members in attendance at the Fortune Gym in Los Angeles, California, that it was just business as usual leading into what could be the most impactful bout of Vera's nine year professional career this Saturday night when he finally squares off against a "heavily" favored Julio Cesar Chavez Jr.
"I can only do what I can do," stated a very relaxed Bryan Vera. "I can't concern myself with the added drama that Chavez brings to the event. I have to stay focused, and hopefully give the fans a great fight on Saturday night."
Most ringside observers are holding their collective breaths in anticipation for what could be a promotional meltdown on Friday, September 27th, during the customary pre-fight weigh in, which is slated to be held at 6PM EST/3PM PST later this afternoon inside the Millennium Biltmore Hotel in Los Angeles, California, if "La Estrella de la Noche" doesn't make the abridged weight limit of 173 pounds.
Will we see the dramatic "Novella" come to an anticlimactic conclusion this afternoon on the scales?
"Hopefully we get a chance to fight this weekend," professes the 31 year old fighter. "I think all of this is a big distraction, but my team is trying to stay as focused as we possibly can. We can only hope that nothing else ruins what should be a great fight for the fans. But you just never know with Chavez."
"I've prepared for the best version of Chavez Junior, but by the looks of it, there's no way in hell he's in the best shape for this fight. But I'm going into this fight like I'm fighting the best conditioned athlete in the world and I'll be ready for war on fight night."
This non-title contest will be Junior's first bout since losing a decisive but dramatic twelve round unanimous decision to lineal Middleweight Champion Sergio Martinez on September 15th, 2012.
Although Vera is considered to be the "opponent" in Saturday night's main event, the hard-nosed fight veteran is motivated to once again prove his mettle in the ring.
"In January, I fought Sergei Dzinziruk and they were looking past me as well. I was a six to one underdog going into the fight, and they were talking to the media in attendance as if I wasn't even there. His promoter was treating the situation as if they had already beaten me and were discussing other opponents for Dzinziruk."
"This fight almost seems like Déjà vu. It's obvious that he isn't taking me seriously. I'm hopeful that we will see the same exact outcome as well. It's crazy how these guys keep doing this. As long as they continue to overlook me, I'll keep proving them wrong and move on to bigger and better things."
On January 25th, at the Turning Stone Resort & Casino in Verona, New York, Bryan shocked the boxing world by knocking out former WBO Junior Middleweight title holder Sergei Dzinziruk in ten rounds on ESPN's "Friday Night Fights".
"At the end of the day, I look at this as an advantage," claims Bryan Vera. "This is the ultimate motivation before a fight like this. They're going to eventually figure out that I'm here to not only fight, but to win. I'm no one's opponent."
The ten round main event is set to take place this Saturday night at the StubHub Center in Carson, California, and is slated to be broadcast on HBO Championship Boxing with a start time of 10:15PM EST/PST.
The weigh in is scheduled for 6PM EST/3PM PST this afternoon and can be seen live streaming at http://www.toprank.com/livestream.
Photos by Carlos Sacriste