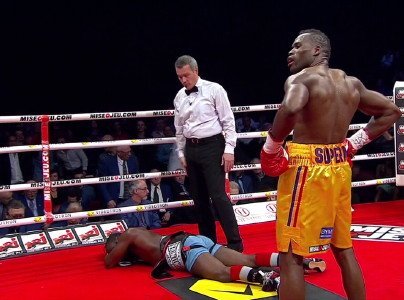 This Saturday in Montreal the Bell Centre will be packed per usual and that loyal fan base will cheer and sing, O Canada until their blue in the face, for their guy Adonis "Superman" Stevenson when he is challenged for 175 supremacy by Tavoris Cloud.
Does Cloud have the skill set sharp enough to stop Stevenson's reign in his first defense of his lineal title. A title that he ripped suddenly from Chad Dawson's soul, leaving the former pound for pound fighter's career in doubt after back to back knockout losses.
I mentioned a sharp skill set, more accurately it will likely be how rough he can make this fight on the inside, using his brute strength to wear down the champion enabling him to use his natural power and athleticism.
A combination of strength, grit, and a sturdy chin has lifted many fighters to great heights in this sport of ours.
Strength and chin just happens to be the first things out of the legend of longevity, Bernard "The Alien" Hopkins mouth when describing what Tavoris Cloud brought to the table in their fight this spring.
Hopkins labeled Cloud as the strongest man he had ever faced when it came to raw power, not necessarily punching power but throwing that strength around and using it to sap the opponent's energy round by round.
I look at Donovan George, who made it to the twelfth round with Superman before being stopped, as a gauge on how this fight could go.
Of course it never is a perfect science, the reason why I consider it useful is Cloud and George have somewhat similar styles.
Both fighters bread and butter is a leading with a basic jab, follow it with the right hand that can be often loopy. Neither fighter is particularly fluid or accurate, have poor defense, and a very mechanical movements.
Naturally many followers of the sport have been buzzing about Stevenson's one punch knockout power.
His fight with George was a war yet Don was able to stand up to Adonis's power up until the fight was stopped with 51 seconds left. This tells me Cloud has a pretty damn good chance lasting the full 12 rounds even if the fight is not going his way.
It felt like Stevenson slowed down the earth's rotation, when he one punched Chad Dawson in June. Now with the a country on his back and a new found fame, he will attempt to live up to the hype that he created just short of four months ago.
Stevenson has been on a tear since his major setback in April 2010, knocking out 7 straight including Darnell Boone, the man who is responsible for his only loss.
I'm interested to see if that T.K.O. loss is still recent enough to keep him humble and focused. Or will the recent KO of Dawson pump up Stevenson's "Superman" chest to the extent that he starts to believe he possess superpowers.
If Stevenson keeps this fight in the middle of the ring and stays out of the clinch he should be able to use his speed and movement advantage to win.
However, if it turns in to rock'em sock'em robots, he should be able to come out on top as well.
Unlike Cloud, who has shown a very good chin, Stevenson chin hasn't always held up. With that said, Cloud hasn't been in with many power punchers and the exchanges that this fight could produce, either man could get hurt or get knocked out.
Can Cloud keep this fight in the trenches digging to the body in the clinch, all the while keeping his normal work rate for most of the fight, something Bhop not surprisingly took away from Cloud.
Will Stevenson use the every growing skill he gained at the Kronk gym to set up his deadly power punches?
My official prediction is a unanimous decision for Adonis Stevenson. I'm not on the side that says Adonis can't lose and will KO all the 175 pound competition. I just don't have confidence that Cloud posses the kryptonite that is needed to beat Superman.
One thing is for sure all roads lead to the Bell Centre in Montreal for light heavyweight supremacy.
Written by Chris Carlson Owner and Host of Rope A Dope Radio at www.blogtalkradio.com/ropeadoperadio
Follow on Twitter @RopeADopeRadio
Subscribe at http://www.youtube.com/user/kg21carlito
Visit http://ropeadoperadio.wordpress.com/