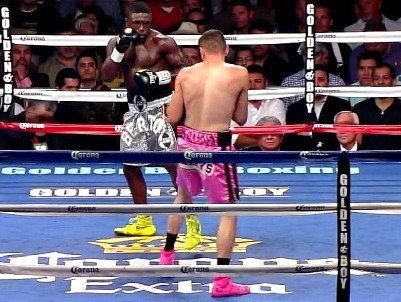 Former IBF/WBC welterweight champion Andre Berto (28-3, 22 KOs) will be making a comeback next month against little known Steve Upsher Chambers (24-3-1, 6 KOs) in a scheduled 10 round bout on the Adrien Broner vs. Emmanuel Taylor card at the U.S. Bank Arena, in Cincinnati, Ohio, USA.
Berto, 30, hasn't fought since last year when he was stopped in the 12th round by Jesus Soto Karass on July 27th, 2013 at the AT&T Center in San Antonio, Texas. Berto tore a tendon in his right shoulder in the 2nd round of that fight when Soto Karass blocked one of his right hands.
To Berto's credit, he fought the remainder of the fight using just his left hand until getting halted in the 12th. In hindsight, Berto should have quit on his stool rather than putting his career in jeopardy in the fight. The loss was Berto's second straight defeat. He was beaten soundly by Robert Guerrero in November of 2012 in losing a 12 round decision in a one-sided fight from start to finish.
It's unclear what the end game is for Berto. He's got a lot of mileage on him at this point in his career, and it would seem unlikely that his trainer Virgil Hunter will be able to turn his career around.
Even if Berto does learn a great deal from Hunter and somehow turn back the hands of time, it's going to be difficult for him to have a positive outcome for what's left of his career. The injury seem to be the main problem for Berto.
Before the shoulder problem, Berto torn a bicep in 2012 that caused him to miss time. You've got to figure that the injuries are things that going to continue for Berto.
Also on the same card is light welterweight Lucas Matthysse facing Roberto Ortiz in a 10 round fight. Light welterweight Michael Perez, who was previously rumored to be Matthysse's opponent, will be facing an opponent still to be determined. Bantamweight Rau'shee Warren is also on the card against a still to be determined opponent.
The main criticism about the Broner-Taylor fight is the fact that Broner and Matthysse aren't fighting each other. This is pretty much a fight card filled with mismatches, but not to the extent of the recent Danny Garcia vs. Rod Salka card. Emmanuel Taylor was beaten earlier this year by Chris Algieri, and he's not on the same level as Broner.
Roberto Ortiz, Matthysse's opponent, has an impressive record of 31-0, but his resume is filled with fluff and he's clearly not as good as his record would indicate. You can make a strong argument that Ortiz isn't even as good as Emmanuel Taylor.
So what we're basically looking at on this card is a series of mismatches instead of a much more interesting fight between Broner and Matthysse. If the card was decided to try and sell a future fight with Broner and Matthysse, then it's sort of understandable that the fights were put together. But a Borner-Matthysse fight doesn't need building up, so this card on September 6th isn't really necessary.