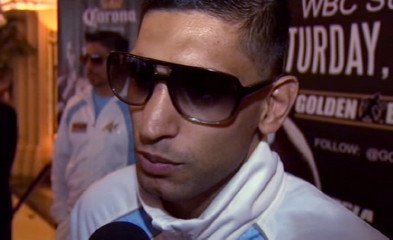 By Marcus Richardson: Amir Khan could fight undefeated WBA interim welterweight champion Diego Chaves (22-0, 18 KO's) next on December 15th. In an interview at Ole.com, Chaves said that he'd been contacted by Khan's people about a fight with him. Chaves doesn't know how much he'd be getting and when the fight would take place if he agreed to take the fight. He's just thinking it over to decide whether he wants to take the fight.
Chaves would undoubtedly be asked to move down to 140 to take the fight with Khan, because Khan has made it clear that he doesn't plan on moving up in weight right now and who can blame him. Khan has lost his last two fights and his career is on the brink of being finished. Chaves is a risky fight for Khan, because this guy can punch and is in the same class as former Khan conquerors Breidis Prescott and Danny Garcia in terms of power.
The fact that Chaves is being asked to take the fight seems to suggest that Khan's promoters at Golden Boy Promotions need to find a guy with a good record and some ability before HBO will agree to take him for Khan's next fight in December.
It's been rumored that HBO has already said no to two opponents offered up for Khan – Joan Guzman and Humberto Soto. Chaves doesn't have as much mileage on him as those two fighters and he's a legitimate welterweight. If he gets forced to move down to 140 to make the fight happen, it could weaken him enough to where Khan would have a better chance of beating him than if Chaves were at full strength and not weakened from weight loss.
Khan needs to end his two fight losing streak because it's starting to get dire now. It seemed like it was only yesterday that Khan was talking about wanting to get Floyd Mayweather Jr. in the ring to try and prove who the best fighter in boxing is pound for pound. Now it would be an absolute joke to consider Khan in any kind of pound for pound category.
If Khan is forced to fight Chaves we could see Khan take a third consecutive loss because this guy is a pressure fighter in the same mold as Marcos Maidana. Chaves likes to throw a lot of uppercuts. In fact, that seems to be his favorite punch and you can expect he'd throw it a lot with Khan if he tries to get in close and grab him around the back of the head the way that Khan was grabbing Lamont Peterson in their fight last December.
It's more than likely that Golden Boy will look to find a weaker puncher than Chaves for Khan to fight because this guy is too dangerous. The last thing that Khan needs is a fighter like Chaves looking to take his head off with every punch. Anyone that faces Khan at this point will be swinging for the fences knowing how vulnerable he is to big shots.