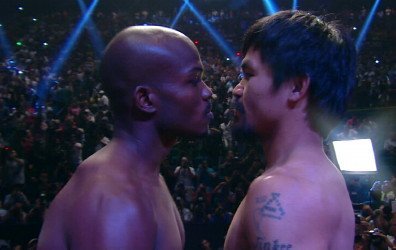 By Rob Smith: A fight between interim WBC welterweight champion Robert Guerrero (30-1-1, 18 KO's) and WBO welterweight champion Tim Bradley (29-0, 12 KO's) is being negotiated between Golden Boy Promotions and Top Rank for December 15th in a venue still to be determined. If this fight can be put together it'll be one of the rare recent occasions where the two rival promotional companies can work together.
Guerrero, who is very eager to get a big money fight, said on his twitter page on Monday "I want Tim Bradley, period! Golden Boy and Oscar De La Hoya make it happen! Fans want it, HBO Boxing wants it! No reason for it not to happen."
It's sad this may be the closest thing that Guerrero has gotten during his career to a big fight, and you can't really call this a big fight, at least not compared to the likes of Floyd Mayweather Jr. and Manny Pacquiao.
Dan Rafael is reporting that the fight is being worked on, so hopefully the two sides can agree on the money and other particulars to make the fight happen.
You can't really call this a unification bout because Guerrero is just the interim WBC welterweight champion. That's like a temporarily champion. You can't classify that as any kind of real champion, although that hasn't stopped Guerrero from counting it as a real title. I just hope he's not disappointed when it comes negotiating the fight and he's possibly not considered on the same level as Bradley due to the interim strap.
Guerrero recently moved up in weight to welterweight from the lightweight division and beat previously undefeated Selcuk Aydin in a mostly one-sided fight. Although Guerrero clearly won the fight without a doubt, he didn't look all that good. His power was nonexistent, his speed not that great, and he had a bad habit of slapping with his shots. To top it off, Guerrero ran out of gas in the last three rounds of the fight. Luckily for him, Aydin was too far behind to come back and win the fight, and accuracy was too poor to score a knockout. Guerrero showed pretty much that he doesn't have the power to give guys trouble. If he's going to win at welterweight, Guerrero will have to win based on work rate and boxing skills.
Bradley will plenty tough for Guerrero, because he's got better than him at welterweight and he's got good enough boxing skills to pound out a decision.
This isn't Bradley's first choice for a fight. He wanted to fight Manny Pacquiao after beating him by a 12 round decision last June. Pacquiao wasn't interested. Bradley then wanted a fight with Floyd Mayweather Jr., but he's not looking to fight anyone right now. With those two fighters off the table, Bradley doesn't have a lot of options available to him for important fights. Miguel Cotto is already scheduled to fight WBA junior middleweight champion Austin Trout. Pacquiao is the #1 WBO ranked contender for Bradley. #2 Bethel Ushona and #3 Jan Zaveck. Neither of the last two guys are going to bring Bradley a big payday.