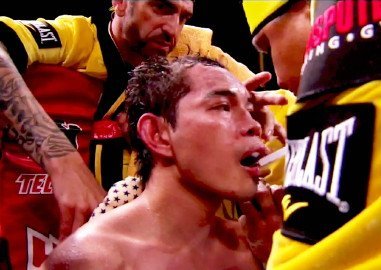 By Joseph Herron: With the big Super Bantamweight showdown between IBF and WBO Champion Nonito Donaire (29-1, 18 KOs) and WBC Champion Emeritus Toshiaki Nishioka (39-4-3, 24 KOs) less than three weeks away, suspense is building among fight fans around the world for this terrific match-up.
The highly anticipated 12 round fight will not only determine the number one fighter in the packed 122 pound weight division, but will also crown a new WBC Diamond Champion.
Elite level trainer Robert Garcia expects to see the best version of "The Filipino Flash" at the Home Depot Center in Carson, California on October 13th.
"Nonito is a professional and always performs at the highest level when faced with a tough fighter like Nishioka," insists the Ring magazine's "2011 Trainer of the Year" award recipient. "This is a challenging fight, but that's what Nonito wants. He wants to fight the best fighters in boxing and I think that's what everyone expects from him."
"Nishioka is a helluva fighter, and it should make for a great night of boxing."
Although this contest pits the top two fighters in the talent enriched Super Bantamweight division, many fight fans and boxing scribes have publicly criticized the four division World Champion for not electing to face WBA title holder Guillermo Rigondeaux.
The always candid boxing coach chimes in with a spirited retort.
"Unfortunately, that's just the way some boxing fans and writers are. Nonito is a pound for pound fighter and is going to get criticized no matter what. If Top Rank and Cameron Dunkin chose Rigondeaux for this fight, the same people would be asking why he's not fighting Abner Mares instead."
"Nonito is a real world champion who will fight anybody. He doesn't duck anyone in the sport. Nonito will fight anyone who Top Rank and Cameron Dunkin put in front of him; and we trust them because they're the very best in the business at guiding a fighter's career. We don't question their decisions; we just get ready for whoever they line up for Nonito."
"Everyone gets criticized in boxing so I just tell Nonito not to listen to any of that. Even Freddie Roach and Manny Pacquiao have been getting criticized lately. We can't please everybody so we just don't pay attention to that."
"We acknowledge that Rigondeaux is a great fighter and we'll get to him very soon. But right now we have to take care of Nishioka, so that's who we're focused on. This isn't an easy fight so we can't look ahead to other opponents."
Mr. Garcia also addresses the critics who have wondered why Nonito's last three opponents have taken the hard punching fighter the distance.
"Like I said, this is boxing. People will always find something to complain about. The explanation is very simple. Nonito has moved up in weight and he's fighting the top fighters in the division. His opponents are bigger and stronger in a higher weight class. It's not as easy."
"He's not fighting guys who are ranked number 25 in the divison. He's fighting the champions. I know people want to see the Nonito who knocked out Montiel or Darchinyan. But I've been satisfied with his performances and I like what I see from Nonito."
"I always go watch the fights the next day and he shows me everything that I need to see. His fights have been great even though they've gone the distance. I don't worry about Nonito knocking everybody out. He's dominating his opponents so I'm happy with the results."