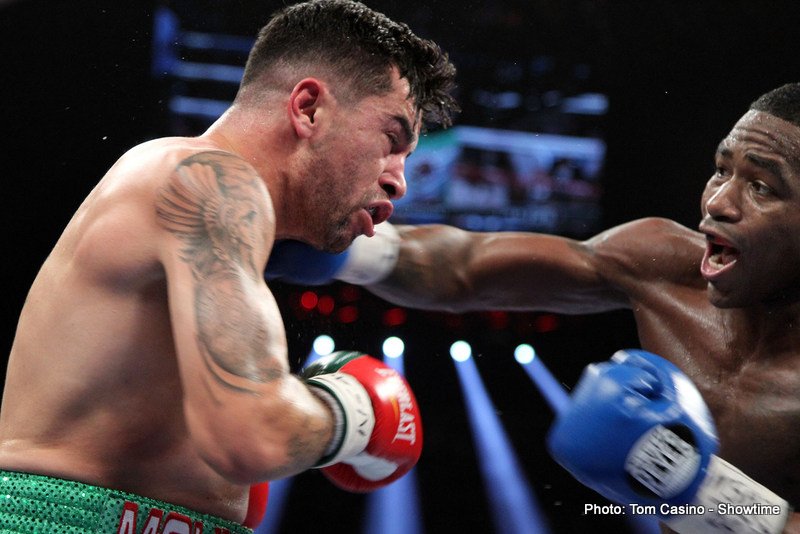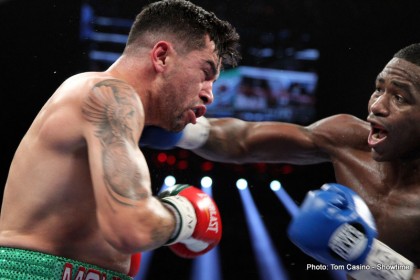 First of all, I need to make it abundantly clear that I despise the way that Adrien Broner conducts himself outside the ring, but I do think he's a talented fighter… and many casual boxing observers seem to allow their hatred to cloud their judgement and underestimate his overall ability and potential.
I also feel that the Carlos Molina bout was arranged by the promoters to specifically showcase Broner's talents, which was essentially a glorified sparring session and a confidence builder.
Anyway, after watching the Molina fight for the second time, I did see some improvement in Broner, though subtle, he does appear to be going in the right direction. Here are my thoughts…
Against Carlos Molina, Broner appeared to follow the orders of his corner-men, which he failed to do in his fight with Marcos Maidana.
There were spells during the Molina fight that he looked much better when he fought on the inside with a textbook style rather than standing stationary using the Mayweather-esque shoulder roll. So perhaps he's not actually fighting with his optimum and natural style.
There's no question that Broner got out-worked by Marcos Maidana in that fight, but against Molina, he showed a significantly improved work-rate, which was reflected in the resulting CompuBox punch stats. Broner threw 36% more jabs and threw 101% more power punches against Molina than he did against Maidana. In terms of total punches thrown, he was 54% busier.
I think we also need to bear in mind Broner's "official" weight for the Maidana bout was only 144½lbs, which is 2½lbs within the welterweight limit, which means he was quite small for that weight division.
With the benefit of hindsight, we know for certain that Marcos Maidana is an enormous welterweight, entering the ring against Floyd Mayweather Jr. weighing an astonishing 165lbs. Unfortunately, I cannot find his locker room weight for the Broner fight, but I really cannot envisage it being that much different.
Therefore, it's fair to say that we all underestimated Marcos Maidana's talent, in light of how well he fought against Floyd Mayweather Jr., and he did hold a significant size advantage over Broner…. Especially when you consider the fact that 'The Problem' had spent most of his career competing against 133-pounders. The Paul Malignaggi bout doesn't really count because he's notoriously feather-fisted, so his power doesn't reflect the punches thrown by a typical welterweight.
I feel that the brash talking Broner, who appears to revel in playing the stereo-typical pantomime villain, could one day physically grow into the light-welterweight division and become the best 140-pounder on the planet, but he's not quite there yet.
It seems to me that Adrien Broner's advisors and promoters have pushed his career too quickly. So his talent should be allowed to develop against weaker opponents rather than matching him up against the likes of Lucas Matthysse or Danny Garcia… and it's fortunate for him that Manny Pacquiao (soon to become a 140-pounder) and Ruslan Provodnikov are contractually tied to HBO, because their talents currently exceed his own.
Danny Garcia's move to welterweight is inevitable and will happen before the end of the year. Manny Pacquiao, Ruslan Provodnikov and Lucas Matthysse are all in their thirties, so they won't be around for much longer.
Meanwhile, Adrien Broner is only 24 years old and will be in his physical prime in a couple of years' time when the guys currently rated above him either retire, are on the decline or move up to the welterweight division. So is it unreasonable to believe that Adrien Broner has the talent and potential in a couple of years' time to join the ranks of the mythical pound-for-pound elite?