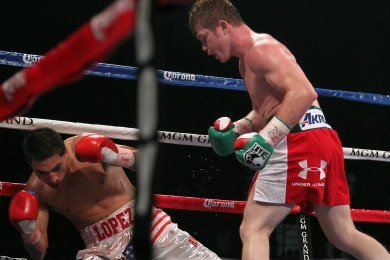 By Bill Phanco: WBC junior middleweight champion Saul "Canelo" Alvarez will be attending this Saturday's fight between Miguel Cotto and WBA World junior middleweight champion Austin Trout at Madison Square Garden with the hopes of facing Cotto if he wins the fight. That's the opponent that Alvarez badly wants, but he may not get him of Trout has something to say about it.
Golden Boy Promotions CEO Richard Schaefer said this to RingTV about a Trout victory over Cotto: "I think we have to see what fashion in which Trout wins, and then we'll make an assessment on it, and I will have to talk with Canelo."
In other words, Alvarez may not fight Trout if he beats Cotto. I suspect that it doesn't matter how good or bad Trout looks in the fight. If he beats Cotto, I don't see Golden Boy allowing Alvarez to take the fight with Trout, because he's all wrong for their young, flat-footed, easy to hit champion Alvarez. If you look at the types of fighters that they've been putting in with Alvarez – slow, older, stationary and smaller fighters – it's clear that Trout is not the ideal opponent. In fact, Trout is the opposite of the types of guys that Golden Boy has fed to Alvarez, which is why I don't see Trout getting the fight even if he destroys Cotto.
Alvarez wants the Cotto, and that's the match-up that Golden Boy is looking to make. It's really the only big name option that Alvarez has for his May 4th Cinco de Mayo date after he told Golden Boy that he wants a big name on this date and that he wants one of the following names only – Floyd Mayweather, Sergio Martinez or Cotto. It's strange to see a young 22-year-old, unproven junior middleweight like Alvarez seemingly calling the shots at this early stage in his career because he's still not a huge star in the U.S and he's pretty much completely unproven still.
Alvarez can change that if he gets one of the big names on his list, but it doesn't help that he's faced so many older, slower, and smaller fighters since turning pro. Alvarez wants to go from fighting guys like Josesito Alvarez and Matthew Hatton to a bout with Cotto. That may not happen if Cotto beats beaten. In that case it'll be interesting to see if Alvarez steers clear of Trout. My guess is he'll want no part of Trout.