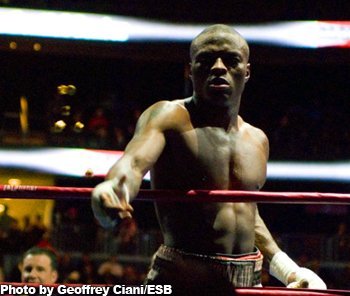 By Paul Grunich: Golden Boy Promotions is reportedly looking to make a fight happen between former WBC/WBO middleweight champion Jermain Taylor (31-4-1, 19 KO's) and WBO middleweight champion Peter Quillin (28-0, 20 KO's) on the undercard of the Danny Garcia vs. Zab Judah fight on February 9th at the Barclays Center, Brooklyn, New York, USA. Taylor, 34, has the recognizable name that Golden Boy wants for an opponent for Quillin, and Taylor has a #8 ranking by the World Boxing Organization.
This is a fight that Richard Schaefer of Golden Boy wants to make. Quillin looked really vulnerable in winning the WBO title against Hassan N'Dam N'Jikam last October. Although Quillin knocked N'Dam down six times, in between those knockdowns Quillin was getting out-boxed and outworked, and he didn't look very special at all.
WBA World middleweight champion Gennady Golovkin was hoping to get a unification fight with Quillin, but Quillin and Golden Boy aren't interested in that fight at all. It's not surprising because Golovkin would likely knock Quillin into the next century if given the chance. That would be mismatch because Quillin is a pretty limited fighter and is going to need to be matched very carefully by Golden Boy if they want to keep him a champion for more than just one defense.
Taylor won his last three fights since coming off of a two year layoff from boxing from 2009 to 2011. Taylor has looked awful in all three fights, and nothing like his prime years of his career. Of all the middleweights, Quillin is probably the only one that Taylor has a small chance of beating but that doesn't mean he will. Taylor has already been knocked down in his comeback and hurt, and Quillin, if nothing else, can punch. He'll likely knock Taylor out cold at some point in this fight unless Taylor lands something big on Quillins' chin.