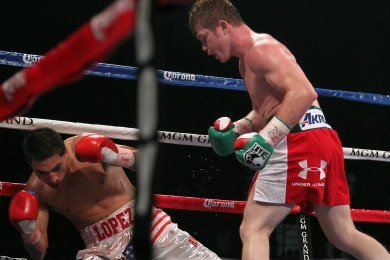 By Joseph Herron: On November 10th, at the Wynn Las Vegas, an impactful contest between the top two WBC Junior Middleweight contenders will take place, which theoretically should determine the next challenger for the incumbent title holder.
But according to Golden Boy advisor and Hall of Fame matchmaker Don Chargin, it's no guarantee that we'll see Canelo Alvarez face either Erislandy Lara or Vanes Martirosyan anytime soon.
"There are a few fighters that we're considering for Canelo's next opponent," claims the legendary boxing promoter. "But all Canelo has on the brain lately is a fight with Floyd Mayweather Jr."
While the great Don Chargin acknowledges that massive scrutiny will more than likely arise among critics and detractors if the current WBC Junior Middleweight Champion refuses to face the eventual November 10th victor, the six decade boxing advocate doesn't see any merit in an overtly negative analysis.
"I think it's laughable that Canelo's critics will automatically jump to the conclusion that he's dodging this fighter or avoiding that fighter, when all the while Alvarez wants to face the best pound for pound fighter on the planet."
Although the astute promoter and matchmaker believes that Canelo is ultimately ready for anyone in boxing, Chargin wouldn't choose to pit him against "Money May" any time soon if he had his druthers.
"Look, he's a baby when you consider his true potential in the sport. Although I think Canelo would give any fighter fits at this time, I wouldn't want to pair him with Floyd for another year. If you look at how Canelo has progressed since he initially won the title last year, it's hard to argue with this path of progress."
The "Don" of boxing knows what it takes to cultivate champions and nurture a young fighter's career. A Hall of Fame resume that includes many developed world champions and over 5,000 different promotions over the span of 60 years confirms and justifies his position.
"It's always been a much more complex and difficult process than most realize," explains "War a Week" Chargin. "When a fighter gets to have the success and financial clout of a Canelo Alvarez, all he has on the brain is who is the biggest and most potentially lucrative opponent I can go after."
"Most people forget that boxing is also a business. A fighter in Canelo's position is looking for the fight that will make him the most money and yield the highest level of professional gain. If Canelo is offered to fight the winner of Lara/Martirosyan or Floyd Mayweather Jr, which fight do you think he's going to choose?"
"Lara and Martirosyan are two very good fighters whom I hold in very high regard. But they aren't big drawing cards and don't bring much to the table financially. Canelo wants to fight someone who puts people in the seats so he doesn't have to be the only popular draw."
Despite the efforts of Golden Boy Promotions to make an interim fight for Alvarez on December 15th, the undefeated Junior Middleweight Champion wants the big names on next year's fight itinerary.
"If Canelo has his way, he will fight Floyd Mayweather on May 4th of next year. That's what his team wants and that's the fight that he has wanted for the last eight months. Canelo wants Mayweather first and Miguel Cotto second in 2013. Those are the two fighters that he really wants next year."
Although several members of the boxing media have reported the possibility of fights with Sergio Martinez and Julio Cesar Chavez Jr. for Golden Boy's "golden child", the Hall of Fame promoter doesn't see those fights materializing in 2013.
"With the uncertainty surrounding Martinez's health and Chavez Jr.'s legal issues, I don't think those fights are a realistic possibility for next year. But if you're seriously entertaining the realistic possibility of fighting Mayweather and Cotto, Canelo really doesn't have to look any further for big fights."