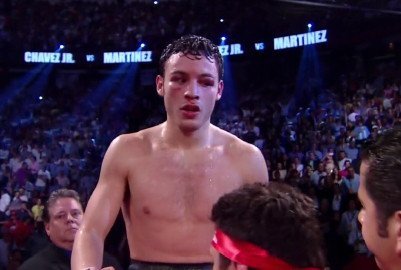 By Marcus Richardson: In looking at how utterly clueless Julio Cesar Chavez Jr. (46-1-1, 32 KO's) was last night in trying to deal with the little bit of movement that Sergio Martinez showed him in winning an lopsided 12 round unanimous decision, it became painfully clear that Chavez Jr's days as a championship caliber fighter will probably be over once he can no longer make weight for the middleweight division. When the time comes that Chavez Jr. can no longer melt down 180+ to 160 lbs to fight smaller middleweights, I think it's going to be all over for him in terms of a champion type fighter.
Chavez Jr. is likely going to be completely lost at super middleweight, because those guys are going almost as big as him, but as so much more skilled, versatile and mobile. To be sure, there are some guys that don't move very well at 168 lbs, like Carl Froch, but he makes up for it by his ability to throw counter shots as soon as he's hit. But Chavez Jr. showed last night that he's a fighter with a fighting style from a bygone era that just doesn't have a place against well schooled fighters that know how to move.
Chavez Jr's fans are celebrating the fact that he got a knockdown of a much smaller Martinez in the 12th, but he couldn't even finish him off because of his lack hand speed and footwork.