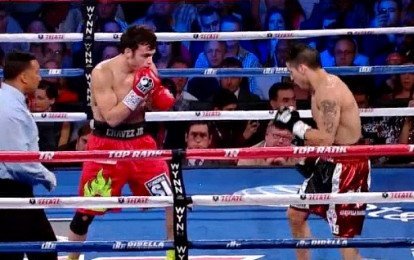 By Dwight Chittenden: With the exception of the 12th round, Sergio Martinez (50-2-2, 28 KO's) completely dominated a badly over-matched WBC middleweight champion Julio Cesar Chavez Jr. (46-1-1, 32 KO's) tonight in beating him by a 12 round unanimous decision at the Thomas & Mack Center, in Las Vegas, Nevada. Martinez, 37, had to climb off the deck in the 12th round to survive after getting hurt and knocked by a desperate Chavez Jr. However, Chavez Jr. was too slow and inaccurate to finish off Martinez when he had him where he wanted him. The final judges' scores were 118-109, 118-109 and 117-110, all for Martinez.
Chavez Jr. couldn't get into the fight in the first 11 rounds, as he was too slow and unable to get his shots off. With Martinez constantly moving, Chavez Jr. looked completely clueless with what to do. His past opponents had always been stationary for him to use his body attack on them while they stood against the ropes for him. But Martinez was going to play Chavez Jr's game and stayed on the move the entire fight.
The fight was already well out of reach by the 8th, as Chavez Jr. hadn't won a round was in a position where he needed a knockout to win the fight. However, each time Chavez Jr. would get something going by landing some of his slow right hands and left hooks, Martinez would respond with fast 1-2 combinations and repeat them while Chavez Jr. looked like a big over-sized kid that was out his class.
On the subject of size, Chavez Jr. looked huge. In my estimation he was at least 180, possibly more and the size slowed him down as one would expect. But in the 12th, that size helped Chavez Jr. score a knockdown.
Overall, Martinez looked great in the fight. He was too fast for the lumbering, slow as molasses Chavez Jr. and he fought really well. I don't know Chavez Jr. can do now. I suspect he'll continue to fight at middleweight because if he moves up in weight his career could take a serious nosedive because the central factor in his success has been his weight advantage over his opposition. If Chavez Jr. moves up in weight to 168 the weight advantage will pretty much be gone or to the point where it won't be nearly significant as it is now.
***
Roman Martinez (26-1-1, 16 KO's) defeated Miguel Beltran Jr. (27-2, 17 KO's) by a 12 round split decision to capture the vacant WBO super featherweight title that previously belonged to Adrien Broner. This is perhaps the only that Martinez could win that bout, because Broner would have been too powerful, fast and accurate for Martinez to have much chance of beating him. Beltran Jr. lost a point deduction from referee Russell Mora 11th round. The final judges' scores were 116-111 for Beltran, and 114-113 and 114-113 for Martinez.
***
Middleweight contender Matthew Macklin (29-4, 20 KO's) came out fast throwing hard leather at former WBC World junior middleweight champion Joachim Alcine (33-3-1, 19 KO's) and stopped him in the 1st round after knocking him down twice in the round. It was as bad of a fight as it was when Alcine was knocked out in the 1st round by Alfredo Angulo two years ago. I guess you can call this good match-making by Macklin's promoter, but I see as a disappointing. I'd prefer to see Macklin fight good opponents instead of guys like this. If Macklin's promoters are looking for soft opposition then he might have to wait an awful long time before he gets another title shot.
***
WBA World super bantamweight champion Guillermo Rigondeaux (11-0, 8 KO's) defeated Top Rank fighter Robert Marroquin (22-2, 15 KO's) by a 12 round unanimous decision. The final judges' scores were 118-108, 118-108 and 118-108. I still can't figure out why Bob Arum wanted to waste the time of Rigondeaux by putting him in with the over-matched Marroquin rather than someone with some talent that's ranked higher than him. Rigondeaux will never become a star if he keeps getting matched up against guys like Marroquin. Rigondeaux knocked Marroquin down in the 5th and the 12th round as he attempted to get a stoppage.
***
Other boxing results on the card:
Wale Omotoso UD 8 Daniel Sostre
Michael Medina UD 8 James Winchester
Willie Nelson UD 10 John Jackson
Mike Lee UD 4 Paul Harness