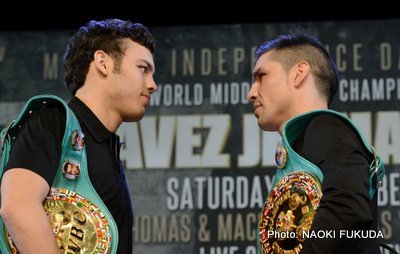 by Robert Jackson: The 'Just the facts' series has held court for many fights dating back to the Mayweather/De La Hoya matchup, and since then has offered a technical perspective in regards to the upcoming 'BIG' fight, ending with the big reveal. Today's edition will analyze and try to figure out the viability of 'the Son of a legend', and also, Argentina's own Maravilla. Trainers, training and conditioning, and the all important intangibles will be discussed and dissected.
Trainers
Sergio Martinez' trainer Pablo Sarmiento is the brother of Martinez' original trainer Gabriel Sarmiento who guided Maravilla earlier in his career. Pablo first worked the corner of Martinez as head trainer during the Sergei Dziniruk fight, a fight where Martinez got a KO in the late rounds. In the following 2 fights Martinez was able to get KO's in both fights. The relationship between fighter and trainer appears to be like that of 2 brothers.
Freddie Roach trainer of Julio Cesar Chavez Jr, as portrayed during HBO's 24/7 series at best appears to be just a 'corner man'. It didn't look like much gymwork and mitts work that Roach is known for was done between the hall of fame trainer and his charge. Chavez Jr chose odd hours to get his work outs in and worked mitts with another trainer as shown during the 24/7 docudrama. Roach's disappointment was obvious during the 2 episode series. How close to reality this trainer/fighter relationship no one will know until fight night.
Advantage Trainers: Maravilla
Training and Conditioning
It's well know in boxing circles that Chavez Jr is a very large man, walking around close to 200lbs in between fights. It's also common knowledge that Chavez Jr. shrinks his large 6'1" body down to make the 160lb limit and then rehydrates back up to 180lbs+, the weight he comes into the ring at, easily outweighing most opponent by 10 or more pounds, this will also be the case against Martinez. Having fought lesser skilled opponents then Martinez, Chavez profited from the fact that MOST stood right in front of Chavez Jr making it easy for him to hit them. This will not be the case with Martinez who implements very good footwork and positioning. Will Martinez' movement tax Chavez Jr's conditioning in respect to him having to lose a lot of weight and then gain a lot of it back and then have to carry it around with him in a high activity fight?
Martinez, trains very technically working on the nuances of boxing technique an strategy. He also places a premium on cardiovascular conditioning and balance training; at 37 he cannot afford not to. Don't know how resting in a hyperbolic chamber helps him but we'll see Saturday night. For a big fight like this one a fighter may be expected to SPAR 100 or more rounds, but in Martinez camp this is not the case. Pablo Sarmiento has Martinez spar fewer rounds to preserve his body while also keeping him hungry for FIGHTING on fight night!
Advantage Training and Conditioning: Maravilla
Intangibles
Odds favor Martinez slightly for this fight; rightfully so based on the level of competition he's fought. But, in recent fights Julio Cesar Chavez Jr's boxing pedigree has made its appearance, glimpses of greatness can be seen. To Chavez Jr's credit or discredit, if the habits and behaviors shown during the 24/7 series are true, these could work against him, or for him. Does Chavez Jr devote MOST of his time to losing weight to the neglect of boxing technique and tactics? Will Sergio Martinez get old overnight like many great fighters have?
Prediction
Chavez Jr's massive weight loss and apparent lack of discipline will hurt him in this one, he will regret his nonchalant approach to this fight. Maravilla's preparation will serve him well and down the stretch he will win by TKO.