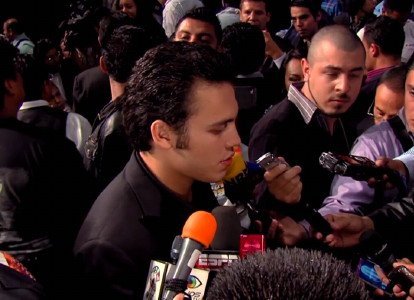 By Michael Collins: Trainer Freddie Roach says that he's tried without success to get WBC middleweight champion Julio Cesar Chavez Jr. (46-0-1, 32 KO's) to move up in weight to the super middleweight division in order for him to not to have to struggle at making the 160 pound middleweight limit. Chavez Jr. has been draining down from over 180 lbs to make weight at 160 for his last handful of fights dating back to 2010.
Chavez Jr. then rehydrates back up to 180 come fight time and is effectively a cruiserweight when he steps inside the ring with his opponents. Thus far he's been able to get away with it because he's been able to dominate the smaller and mostly limited opposition that his promoter Bob Arum has matched him up against. However, it's pretty clear that Chavez Jr. won't be able to drain down indefinitely. He's going to reach a point soon to where he can no longer safely make weight for his middleweight fights, and will have to move up to 168.
Roach told RingTV.com "I always say that Chavez should go to 168, but he always disagrees with me. He says he's okay, but I know that I've seen him suffer to make that fight. I believe he would be a stronger fighter at 168….He goes into the ring at 180 or 185, and beats up on smaller guys and it has worked out well for him."
Beating up smaller guys has definitely helped Chavez Jr. and it might be the centerpiece for his success at middleweight. If you take away Chavez Jr's weight advantage with his opponents it might be very difficult for him to fight on the same level that he's been accustomed to.
Chavez Jr. would have more strength if he could fight at 168 or 175. I just don't know how well he'd do against guys like Andre Ward, Carl Froch, Arthur Abraham, Adonis Stevenson and Kelly Pavlik. Chavez Jr. might be better off skipping the super middleweight division and moving up to light heavyweight or cruiserweight to compete in those weak divisions.
It's too bad Chavez Jr. is resistant to moving up in weight because he may have to in a year or two when his metabolism continues to slow. Losing over 20 pounds of water weight is unhealthy and if he starts having to drain 25 pounds of water weight we could see his effectiveness disappear.