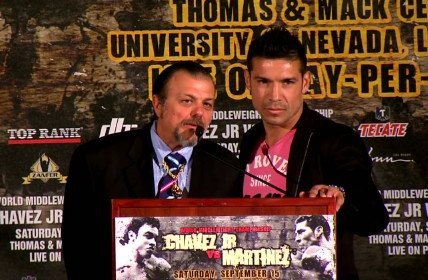 By Emilio Camacho, Esq. Several of you have emailed me asking for a prediction for the Julio Cesar Chavez Jr. v. Sergio Martinez fight. By popular demand, here it is. First, I want to note that I am making a bold prediction because almost all experts expect the fight to go to decision and most expect Martinez to win on points. I am partly going a step further and here is why.
First, let us look at Chavez. He has youth, great conditioning, a granite chin, a size advantage, and the benefit of having his father's advice. However, he lacks world-class experience and, the best fighter he faced, Andy Lee, in my opinion, was a overrated. More significantly, Chavez does not use his height advantage at all because his fighting style is better tailored for someone smaller like his father.
Although Roach has attempted to get him boxing a bit more to use his reach advantage, he falls back into brawler mode and looping punches to the body quite easily. Given these considerations, the only way I see Chavez winning this fight is if he is able to slow Martinez down with body shots, get Martinez on the ropes or fighting close, and pound the middle weight champion to submission with his weight advantage and relentless aggression. However, I believe this is unlikely to happen as I will explain after I analyze Martinez's advantages.
Second, let us look at Martinez. Martinez has world-class experience, superior conditioning, has a good chin (though he can be dropped), hand speed, good footwork, good punching power, and is a southpaw who fights with his hands down. In my view, this spells trouble for Chavez. Martinez throws punches and combinations from unusual and strange angles and his rhythm is also unusual. We are certain that Chavez has never experienced anything similar to the fighting style and punching angles that Martinez has mastered.
Given these considerations, the way I see Martinez winning this fight is by consistent moving and circling to both sides, staying off the ropes, tying up Chavez (Hopkins style) when up-close, and counter-punching. For this, Martinez must start and slow and progressively become more aggressive against Chavez. Basically, I believe this will be similar to the Pavlik fight (hence you should watch this fight before tomorrow's fight) with Martinez pulling ahead in the later rounds.
Third, I present a more detailed prediction. I believe Chavez will start strong and take it to Martinez from the start. I believe Martinez will be a bit overwhelmed in the first two rounds because
Chavez will try to bully him. Thus, I believe each fighter will win one round during the first two. Nevertheless, I believe that by round 3 Martinez will hit Chavez with something big in an effort to
establish some distance between them. Consequently, this will buzz the younger fighter but he will continue to come, albeit, more carefully. After round three, it will be the same pattern: Chavez will keep coming and Martinez will tag him all night long, moving, or tying up. At some point, I after round 6, I believe Chavez will suffer a cut and this will give us a more intense fight in the later rounds. In the end, I believe that Martinez will hit Chavez too much and the fight will be stopped due to an accumulation of punishment. I do not think we will see a one-punch knockout (like Paul Williams) but Martinez will will by TKO. Then, he will ask Floyd to come out and play!
Once again, if will write something after the fight, especially if I am wrong about the way things will go. I hope all of you who requested the prediction enjoy the fights (Canelo Alvarez will also be fighting). As always, you can email me your comments to boxingcamacho@gmail.com. I always enjoy your perspective.
P.S. Saul Alvarez will also win by TKO.