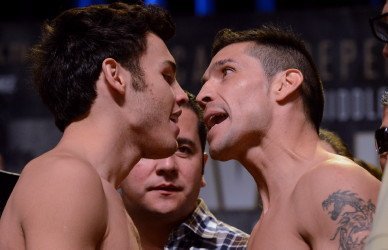 (Photo credit: Sumio Yamada) By Michael Collins: ESPN analyst Teddy Atlas doesn't think that WBC middleweight champion Julio Cesar Chavez Jr. has the skills or the hand speed to beat a talented fighter like Sergio Martinez tonight in their fight in Las Vegas. Atlas is one of the many people who feel that Chavez Jr's weight advantage will be meaningless for him because of Martinez mobility.
Atlas said "Chavez Jr. is a little too slow, too predictable, right down the middle. He's not hard to hit; He likes to go to the body. He's not going to get his way with Martinez. Martinez is going to knock him out late in the fight. He's going to take him apart like a surgeon taking someone apart and just operates on them. I think he [Martinez] has quicker hands, better experience, confidence, everything, the whole package and his feet. Martinez uses his legs real well to get angles and to do his job."
I think Atlas pretty much summed up my thoughts on the fight in an excellent manner. Chavez Jr. is a big guy and is young, but his whole style of fighting is suited more for the stationary opposition that his promoter Bob Arum has been matching against him up until now. Chavez Jr. is a big slow guy that needs his opponents to stand right there for him to land his shots, preferably with their backs against the ropes. With a big 15 pound weight advantage at times, the 180 pound Chavez Jr. is able to have his way with smaller middleweights and that makes things easy for him.
Unless the 37-year-old Martinez turns old over night, he should be able to create enough space between him and Chavez Jr. to disrupt his offensive flow. If Chavez Jr. is unable to get his feet set to throw his body shots then he's pretty limited. He can't load up much against a moving target like Martinez, and the only way he'll have success with that kind of style if if he can cut off the ring and trap Martinez in different parts of the ring. It's going to be hard for Chavez Jr. to do that with all that weight he's added in the past 24 hours since making weight. It takes awhile for your body to adjust to carrying around 20+ pounds of water weight that you put on in a short period of time like Chavez Jr. is doing.