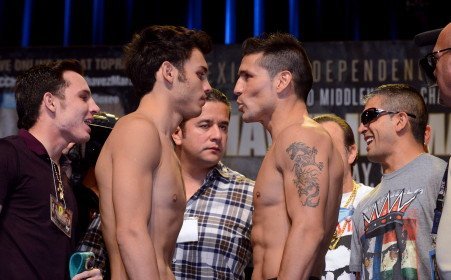 (Photo credit: Naoki Fakuda) By Joseph Herron: After over a year of verbal sparring from both camps, Julio Cesar Chavez Jr. vs. Sergio "Maravilla" Martinez is finally upon us!
The main event will be broadcast on HBO PPV and can be purchased for $49.95 through your local cable company, satellite provider, or online via www.toprank.com. The four bout televised event will have a start time of 9PM EST/6PM PST.
The two combatants in tonight's main event own a great amount of disdain for each other and have made public declarations of their mutual hatred. The well documented feud goes back to March of 2011, when HBO rejected Sergio Martinez's mandatory challenger Sebastian Zbik as a suitable opponent for the former WBC Middleweight Champion.
Instead of giving up his big network fight date to appease the world renowned sanctioning organization, "Maravilla" elected to relinquish the green strap and face former WBO Junior Middleweight Champion Sergei Dzinziruk for the WBC Diamond distinction.
Then in June of last year, Julio Cesar Chavez Jr. was slated to make his first world championship effort for Sergio's vacated green belt on HBO against, none other than, WBC interim champion Sebastian Zbik; the same opponent that HBO previously rejected as an appropriate challenger for Martinez.
Once Maravilla caught wind of the HBO double standard, it was officially on between Martinez and Chavez Jr.
Back and forth the insults flew between the two Middleweight fighters and their respective camps. Martinez was seen at numerous Chavez Jr. bouts calling out the seemingly protected fighter, claiming that Junior was defending a title that was rightfully his.
While JCC Jr. was being accused of paper champion status, he racked up three very impressive performances in a row against Peter Manfredo Jr, Marco Antonio Rubio, and most recently Irish Andy Lee. Junior not only was able to stop two of those opponents, he also garnered the respect of the boxing world by defeating two legitimate title contenders, Rubio and Lee, in exciting fashion.
Tonight both fighters will finally settle matters once and for all at the renowned Thomas & Mack Center in Las Vegas, Nevada. Who will win this highly anticipated match-up?
Let's take a look at the "Tale of the Tape"!!
Tale of the Tape
Sergio "Maravilla" Martinez (49-2-2, 28 KOs) – The elite level southpaw stands 5'10" and fights with a 75" reach. Maravilla hails from Quilmes, Buenos Aires, Argentina, but trains in Oxnard, CA, with Pablo Sarmiento; one of the more underrated trainers in boxing today.
Since turning pro at the age of 22 in 1997, Martinez has fought 369 rounds and is now 37 years of age. Although Sergio is 11 years older than his opponent, the Argentine sharpshooter is currently viewed as one of the top 3 pound for pound combatants in boxing and considered to be in his fighting prime at this juncture in his career.
Maravilla is a complete fighter and is one of the most intelligent pugilists in the sport. He fights his opponents at angles effectively from the outside and can bang on the inside when necessary, as he displayed in his masterful destruction of Paul Williams in November of 2010.
He throws tight, compact shots with great accuracy, and is one of the most proficient fighters in boxing at adapting to his opponent's fight style. He has a wide arsenal of punches and can launch an attack from any angle. He usually likes to attack in very disjunct and sporadic intervals, which makes it virtually impossible for his opposition to time effectively with a counter.
Maravilla also displays brilliant footwork and can use the entire ring against an aggressive adversary. He can fight effectively off of his front or back foot while setting traps for his opponents at various distances.
Sergio has very good head and upper body movement, which creates a smaller and more difficult target to hit cleanly and often. Martinez always enters the ring in superb condition and can fight three minutes of every round in a twelve round bout.
Maravilla likes to set traps for his opponents by using great lateral movement while he catches them coming in with a full arsenal of shots. He can throw punches from long, mid, and short range and has deceptive power in both hands. Although he only has a 53 percent KO ratio to rounds boxed, he has turned into a very powerful fighter while campaigning at 160 pounds and has stopped his last four opponents in dramatic fashion.
He can throw hooks on the inside, looping mid range bombs, and straight effective left hands at long range. Maravilla is the total package and is considered to be the best overall fighter in boxing next to Manny Pacquiao, Floyd Mayweather Jr., and possibly Andre Ward.
Julio Cesar Chavez Jr. (46-0-1, 32 KOs) – The 26 year old WBC Middleweight Champion will forever be in the shadow of his father, Mexican legend Julio Cesar Chavez Sr. But over the course of his last six bouts, Junior has made a resounding argument that he has finally become his own man.
Born in Culiacan, Sinaloa, Mexico, JCC Jr. is a 6'0" orthodox fighter with a 73" reach. Despite having a record of 46-0-1 with 32 KOs, and a portion of the Middleweight crown, most of his critics still feel that Junior has yet to be truly tested.
Chavez has improved remarkably since pairing with Hall of Fame trainer Freddie Roach in 2010. Since working with the elite level trainer, Junior has improved various facets to his fight game and has shown more weapons in his boxing arsenal.
JCC Jr. is a very durable physical fighter who has previously chosen to walk through fire to prove his dominance over his last two opponents. He has seemingly adopted his father's legendary chin and iron resolve and is not afraid to take his opponent's best shots to eventually impose his will.
In recent bouts, Chavez has shown the ability to use the entire ring effectively but has also displayed the fortitude to resort to his Mexican pedigree and bang on the inside. Against a brilliant technical fighter like Maravilla in a massive 24 foot ring, it will be interesting to see which fight tactic Junior implements during the fight.
Julio Cesar Chavez likes to work his way inside his opponent's defense by throwing hooks from mid-range, but will have to mix it up with strong feints and a variety of jabs against Martinez. Roach has also greatly improved Junior's footwork and conditioning which should serve him well in applying intelligent pressure against a crafty fighter who can move effectively on the outside.
Although Chavez can take a great shot, he doesn't want to test the waters frequently in this fight. Chavez will have to move his head effectively and get low enough to slide underneath Maravilla's defense. Once he's there, he has to outmuscle Martinez and show off his beautiful skills on the inside. Chavez Jr. throws short, compact hooks and uppercuts inside and can fire them at many different angles.
His combinations underneath an opponent's defense are highly underrated and can be very difficult to defend when thrown from a very short distance. Chavez likes to use both hands when firing under a challenger's defense and will mix in shots to the body and head with uppercuts, hooks, and straight punches between a fighter's guard.
In his last two bouts, Chavez weighed in at a whopping 185 and 180 pounds on fight night. To be successful against the fleet footed Maravilla, he cannot enter the ring above 175 tonight. He will need speed to cut off the big 24 ft. ring effectively. If we see a large version of Chavez Jr. once again, he could consistently be one step behind Martinez and eat damaging left hands throughout the fight.
Keys to Victory
To win this fight, Sergio Martinez has to be sharp. Unlike Pavlik, Macklin, and Williams, Maravilla will be facing a proficient inside fighter who can also cut off the ring effectively. Sergio usually thrives off of fighters who are aggressive but don't cut off the ring particularly well. Chavez can close the distance quickly and throw short, compact shots on the inside if Sergio isn't prepared to fight all three minutes of every round.
Look for Martinez to use his sporadic and disjunct straight left hands to bait Chavez in, while stepping around his opponent and out of harm's way. Martinez will use angles to set up counters and force Junior to throw hooks across his body; ultimately leaving himself out of position and in range for a hard Maravilla left hand. He loves circling the ring and catching a fighter as they're coming in with straight left hand shots and sharp hooks from midrange.
Martinez must use effective lateral movement in different directions to confuse Chavez and keep him off balance. If he can move laterally while setting traps for Chavez, and catch him with hard impactful shots coming in, Sergio Martinez should be able to win an impressive and lopsided victory.
To win the biggest fight of his career, Julio Cesar Chavez Jr. must be able to negate Maravilla's movement with a heavy body attack when in close. He absolutely must be able to anticipate Sergio's lateral movement and cut off the ring effectively to land punches. He has to apply intelligent pressure by using feints and head movement and not just try to come straight ahead.
Junior is not going to receive very many opportunities to touch up Martinez, so when he does get the opportunity to hit his opponent, he absolutely has to throw quick combinations to the body and head. It's very important that he just touch the champion anywhere he can find an opening…to the arms, chest, and body. If Junior can touch up Maravilla early in the fight, he can eventually wear down his opponent and start finding his target in the mid to late rounds.
If Chavez doesn't see any success in the early rounds, it's very important that he stick with his game plan and continue to close the gap. He must not get discouraged. If he can cut off the ring effectively while landing to the body and head in close quarters, Junior could pull off the upset and become the universally recognized Middleweight Champion of the world.
Prediction
Although many fight fans like Junior's chances in this fight, Sergio Martinez is a very special fighter and should be able to defeat Chavez Jr. soundly. Maravilla is an elite level talent and a sharpshooter who can punch. Despite Top Rank's efforts to prepare their fighter for a showdown of this magnitude, Chavez has never faced an opponent like Martinez and it will show in the ring tonight.
Maravilla is a rare fighter who doesn't slow down in the later rounds and carries his power well into the fight. Expect to see Martinez hurt Chavez early and often in this fight, making Junior a more cautious and tentative fighter than we're used to seeing. I can easily see Chavez getting bloodied up in the mid to late rounds with the doctor stopping the fight.
Official Prediction: Sergio Martinez TKO 10 over Julio Cesar Chavez Jr.