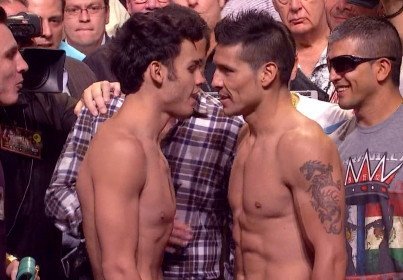 By Michael Collins: WBC middleweight champion Julio Cesar Chavez Jr. (46-0-1, 32 KO's) was able to successfully make weight during today's weigh-in with Sergio Martinez (49-2-2, 28 KO's) in Las Vegas, Nevada for their fight tomorrow night. I wasn't prepared for how badly weight drained Chavez Jr. looked in weighing in at 158 pounds. He looked absolutely terrible, like someone that crawled out of a hospital bed to come in weigh-in. In contrast, Sergio Martinez looked sensation in weighing in at 159 pounds with no signs if being weight drained.
Chavez Jr. looks like he drained off a huge amount of water weight and I'm just wondering if he's going to be able to put that weight back on still fight at high level. Chavez Jr. has gotten away with this against lesser fighters than Martinez, but I think he's about to run out of luck tomorrow night when he squares off with the 37-year-old Martinez at the sold out Thomas & Mack Center in Las Vegas, Nevada.
Several weeks ago, Chavez Jr. still looked to be in the upper 180s and it looks like he's drained well over 20 pounds of water weight since them. I know we've heard that Chavez Jr. was down to 166 last week, which suggests that he's been draining water for a while now. But in looking at how painfully thin Chavez Jr. was at the weigh-in today, I don't see how he can win this fight tomorrow night against Martinez. Chavez Jr. is WAY too thin and he's going to take a beating in this fight.
Unless Chavez Jr. is super human, he's going to going to be weak and is going to get knocked out badly. I just hope for his sake he learns his lesson from this loss and moves up in weight to super middleweight or better to light heavyweight so he doesn't have to continue to take losses by weight drained.
***
Other weights:
Roman Martinez 129 – Miguel Beltran Jr 131
Guillermo Rigondeaux 122 – Robert Marroquin 122
Matthew Macklin 160.5 – Joachim Alcine 158
Mike Lee 174 vs. Paul Harness 173.25
John Jackson 152 – Willie Nelson 153.25
Wale Omotoso 147.5 – Daniel Sostre 145