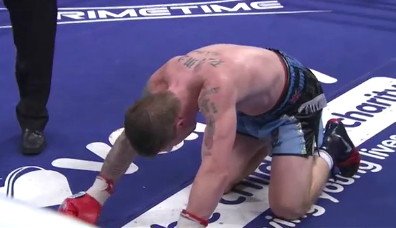 By Joseph Herron: After staging a valiant comeback from over three years of inactivity, Ricky Hatton (45-3, 32 KOs) was knocked out by a lethal shot to the liver via left hook from former WBA Welterweight Champion Vyacheslav Senchenko (33-1, 22 KOs) in the closing seconds of the ninth round in a scheduled ten round contest.
To begin the contest, an exuberant "Hitman" excited the crowd by closing the distance effectively and launching his trademark left hooks to the body and head of the rangy Ukrainian boxer. Although Ricky's timing and rhythm was not reminiscent of the classic Junior Welterweight Hatton, Manchester's favorite son was pressing the action successfully and forcing the fight to the larger visiting pugilist in the first half of the bout.
To begin the sixth round, Senchenko began to create distance by using the jab and landing the left hook, straight right hand combination to the body and head of the two division world champion. Despite trudging forward and landing the occasional effective left hand, the 34 year old fight veteran was getting caught cleanly and regularly while marching into the much taller and rangier fighter throughout the last half of the contest.
In the ninth and final round, Senchenko was able to time Hatton effectively as he was coming in with hard impactful shots to the body and head of the battered Hitman. With less than twenty seconds remaining in the stanza, the Ukrainian fighter landed a hard right hand to the jaw, followed by a perfectly placed left hook to Hatton's liver, which floored the courageous Briton for the seventh time in his illustrious career.
Unfortunately for the 20,000 Hatton faithful in attendance, the Hitman could not beat referee Victor Loughlin's count and remained on the canvas to suffer his third professional loss and his second consecutive defeat.
Going into the ninth round, the three judges at ringside had Hatton winning the bout with scores of 78-74 and 77-76 twice.
After the humbling loss, the brave Hitman had a very heartfelt and somber message for the media at ringside.
"I don't want to make any hasty decisions, but I'm really heartbroken at the moment," stated an emotional Ricky Hatton. "Not just for the twelve weeks of training but for the five months in planning this comeback. I felt I was winning the fight and was almost home but got caught with one shot…I'm truly heartbroken."
"He landing some good body shots early on and I would have ordinarily been looking for that late in the fight. But that's what being off for three and a half years does to you. He's a former world champion who has only lost one fight, and a lot of people patted me on the back for taking this challenge."
"I want to fight for world titles and I have to beat someone like that to compete for a world title, and there's a lot I need to think about. I don't know how many times I can keep picking my ass up off the floor…I don't know if I can keep doing it."
"I'm a champion…I'm a fighter. I'm not a failure. I really need to think about things because that's not the way my career should end. I'm not going to rush into anything because it's a big decision, but I'm sick of losing. That's two defeats in a row…and as proud a man as I am, you don't know what that does to me."
"I'm so sorry…I'm so sorry. You know, I'm not quitter and I keep trying. I wanted a challenge and I picked a challenge…and it didn't come off tonight. But I want to thank everyone for turning out. I felt I really needed to prove something tonight and I think I proved it. Being out for three and a half years and with all of the demons I've had…it's heartbreaking to be honest."
After dealing with and overcoming bouts of depression and substance abuse throughout his lengthy period of inactivity, Ricky Hatton has nothing to be sorry about. The 34 year old two division world titlist is a true champion…not only in boxing, but in life.
Hold your head high, Ricky…the boxing world still loves you.