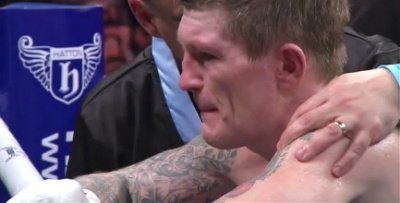 By Marc Livitz: The Manchester fighter once again had the adulation of his home crowd behind him on Saturday evening and by his own admission, he faced an opponent who was anything but a "ham and egger".
Vyacheslav Senchenko had the gall to step into the ring while wearing a Manchester United shirt, which made this writer hope for a Hatton knockout even more. Nevertheless, the Ukrainian fighter may already know what will be his first choice of what to take with him into the next life: his left hook to the body. When you absolutely must send your rival to the floor, accept no substitutes.
One's liver is quite susceptible to blunt force, yet Ricky didn't appear to get to experience the one to two second delay that separates the shot from the slump. The bet to place in regard to a valid explanation may be the easiest addition to your next parlay. The documentation present in virtually all forms of media confirms that one of the hardest working entities in all of the British Isles has been Hatton's liver. Do as you will and live as you may, yet the little party rascals to which Ricky has given anything and everything but austerity may have stiffed him on the check more than he would care to believe.
His teary eyed interview after the loss to an especially pushy television personality should have moved most fans of the sport in some fashion. Ricky's the classiest chap in Lancashire.
Senchenko is not on many top 25 lists in the welterweight class, however he remained calm and focused throughout the nine rounds he fought. If "Hitman" Hatton had indeed fought a journeyman fighter as opposed to a former titleholder, then the Kool Aid would likely have been passed around even more.
Speaking of which, ringside judge Robin Dolpierre had Ricky winning by a large margin at the time of the stoppage. Funny decisions are sadly commonplace in boxing, so maybe Dolpierre mistakenly brought just his reading glasses to the Manchester Arena with him. Hatton clearly controlled a bulk of the early rounds, mostly because he was able to dish it out as well as he could take it.
The fight began to sway in the direction of the Donetsk fighter after round six and just as was the case in Hatton's 2007 loss to Floyd Mayweather, Jr., much of the crowd in the stands was once again sea of disbelief. Ricky looked fighting fit but still couldn't put his defensive inattentiveness behind him. He slowed a bit, but Senchenko won't be picking up a medal for neither hand nor foot speed anytime soon. Hatton appeared to hurt Vyacheslav here and there, but nowhere near putting him away. In the ninth, a perfectly placed body blow dropped the beloved Manchester City supporter and most nights such a shot signals an end to the action. Hatton's corner quickly ran to his aid and began to lightly massage his liver without knowing whether or not it even synthesizes the bad stuff anymore. His face was also busted up from a steady night of absorbing jabs.
What is the story to be told here? Of course, most types of excesses in life can have long reaching penalties. Hatton's pride in and out of the ring will hopefully lead him to the right decision. Forget about the "why no tune up?" argument completely.
On a side note, let us pause a moment to remember the recently departed Hector "Macho" Camacho.
Speaking of, is his victory over Sugar Ray Leonard a bit overstated? Leonard was forty years of age and hadn't fought in six years. This is the same fighter that came back after a three year layoff to defeat Marvin Hagler (did he really win?). He had also taken a two year break before this, but Leonard was still young and fresh faced. Sometime a break from the squared circle is better left as a foregone conclusion.
Ricky may have gone for another round one too many times.
The notion of dropping seventy pounds over nine to ten months is a monstrous idea, especially for a five and a half foot tall individual. We should love him either way. He left it all in the ring this time, which was no different from his forty-plus fights. His thoughts concerning retirement were voiced in a recent conference call.
"If it all goes wrong on Saturday, then needless to say I'll be heartbroken. I feel like I've already won and I haven't thrown a punch yet. I wouldn't be surprised if I got really emotional right before the fight started. I feel like I've won my hardest fight. I just have to hold it all together and show my championship qualities."
He held it in as long as he possibly could and he showed the "do or die" attributes which have made him the everyman's punching chance. Hatton stated that he would have a decision to make on November 25th. He surely wasn't looking for it on the canvas. One certainty is simple. Ricky can try to let go just as long as he doesn't let himself go once again.