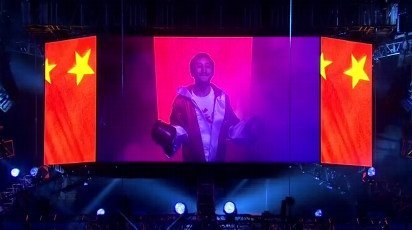 One of the biggest boxing stars in all of China, former two-time Olympic gold medal winner and former WBO flyweight champion Zou Shiming has been dealt a cruel blow. According to a report in the South China Morning Post, Shiming is currently in hospital, being treated for eye problems that may actually be the result of his having suffered a detached retina in his left eye.
According to the report, Shiming complained of trouble seeing out of his left eye whilst flying back to Shanghai having been in Beijing to attend an awards event. Upon landing, the 36 year old superstar had his eye checked and, sadly, the prognosis is not good.
"He will stay in hospital and things are not looking good. The check up is still ongoing but his spirits seem to be OK," Sina Shanghai told SCMP.
Shiming actually lost his last fight, when he was upset by big underdog Sho Kimura (in a contender for this year's Upset of The Year award) in July. Now, the man who has attracted audiences of over a billion, may never box again.
Fighters face a number of risks each and every time they step into the ring, and the possibility of suffering a detached retina seems to be one of the most common injuries that can occur. It happened to the great Sugar Ray Leonard, but as we know, surgery was a success in Leonard's case and he was able to come back and resume his career with tremendous results. It is to be hoped, for Shiming's sake, that this turns out to be the case here too.
Shiming has had trouble with his left eye before; complaining as he did of having double-vision ahead of one of his fights at London 2012. Right now, all those close to Zou are hugely concerned. We wish him well.
Shiming is currently 9-2(2) as a pro and he has been one of China's biggest moneymakers in all of sports. Shiming really did put China and boxing gyms in China on the map in a big way from a boxing perspective.