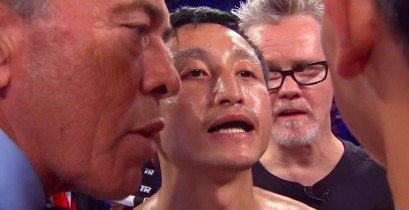 Earlier today in Shanghai, China, unheralded Sho Kimura from Tokyo, Japan stunned China's boxing superstar Zou Shiming via upset 11th round TKO. Kimura, who had never before fought anyone of real note (a number of his wins coming over fighters who had losing records) ripped the WBO flyweight crown from defending champ Shiming.
Blood pouring from his right eye, the 28 year old warrior who actually lost his pro debut via KO, decked the champ in the 11th round with a barrage of blows. Shiming tried to get up to continue yet he was on unsteady legs and the referee called a halt to the fight. The time was 2.28 of round 11.
New champ Kimura is now 15-1-2(8). Shiming, in being stopped for the first time in his career, is now 9-2(2).
36 year old Shiming, China's most successful amateur boxer ever (winning three consecutive Olympic medals; a bronze in 2004 and gold in 2008 and 2012) was controlling the action with his fast hands and his clever boxing, but Kumura just kept on coming. No longer with trainer Freddie Roach, or with Top Rank – Shiming promoted his own fight today – the defending champ must have been surprised by the sheer toughness of his challenger.
The cut eye Kimura suffered was the result of a 3rd round head clash and at times the injury threatened to stop the fight. But the 10/1 underdog gritted his teeth and fought hard. Shiming, adopting his usual hands held low style, was soon running on empty. The end was shocking and we have possibly seen this year's biggest upset so far.
"Even though I couldn't win this fight, I will fight on," Shiming said after the defeat as quoted by The South China Morning Post. "I must thank the audience here. You have supported me all the way through. China is a big country. I am sure I will come back. I have been boxing for 22 years. Boxing has never been understood by others in China. Although I lost, I drew attention to the boxing game to millions of people in China. I think it was worth it."
New king Kimura, who reportedly could not even afford to buy a pair of training shoes ahead of today's fight, is now celebrating the biggest moment of his boxing life. At the time of the stoppage, Shiming was up 97-93 and 96-94 on two cards, Kimura was ahead by a 96-94 margin on the third card.