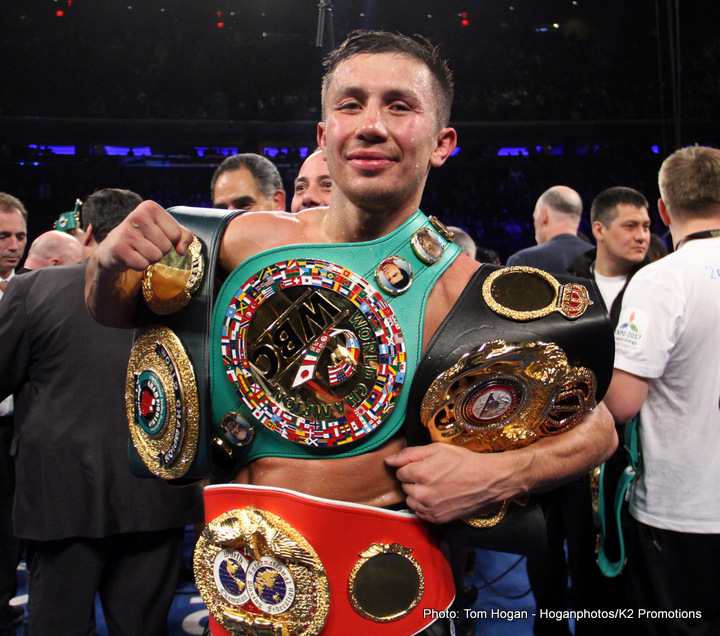 By Justin Jones: First, let me start off by giving the fighters, promoters, advisers, trainers, TV networks & executives, media members, and of course, the fans, a big round of applause (claps in circular motion)!
After a rather dull 2016, boxing fans were treated to a number of competitive and compelling matchups, seemingly every weekend this year. We witnessed history – Terrance Crawford (32-0, 23 KOs) fully unifying the 140-pound division and two 2-time Olympic gold medalists get it on (Vasyl Lomachenko [10-1, 10 KOs] vs. Guillermo Rigondeaux [17-1, 11 KOs]). We were also treated to a number of pound-for-pound fighters willing to test their mettle against one another – Andrew Ward (32-0, 16 KOs) vs Sergey Kovalev (31-2-1, 27 KOs), Gennady Golovkin (37-0-1, 33 KOs) vs Saul "Canelo" Alvarez (49-1-2), and Lomachenko vs. Rigondeaux.
In addition, there were countless bouts between top level guys seeking to take on other top level competition; a video game-like fantasy fight between Floyd Mayweather, Jr. (50-0, 27 KOs) vs. Conor McGregor (0-1) – leaving Mayweather, Jr. the only boxer standing a perfect 50-0; huge upsets (Srisaket Sor Rungvisai (44-4-1, 40 KOs) over Roman Gonzalez (46-2, 38 KOs) [twice, yet the first fight was extremely controversial], Sadam Ali (26-1, 14 KOs) beating Miguel Cotto (41-6, 33 KOs), and Jeff Horn (18-0-1, 12 KOs) getting his name called over Manny Pacquiao (59-7-2, 38 KOs) in highly controversial fashion.
There were crushing knockouts; an easing of tension between promoters; great boxing enthusiasm and theatre from within the U.S. (New York, California, Las Vegas, MD/DC, Philly, etc.) to across the pond (London, Sheffield, Manchester, etc.), and even down under in Australia.
https://www.youtube.com/watch?v=Gx0LC8C-X8E
Not often lately, can boxing fans legitimately say they got what they asked for in a given year, but 2017 was certainly one of them. We – media members and boxing fans – have been calling for and throwing out the catchphrase of letting the "best fight the best" for some time, and that constant messaging has finally started sinking in with the powers that be. A simple formula yet a highly effective/profitable one to continue capturing the attention of diehard fans, while peaking the interest of casual sports fans at the same time.
Honestly, the only downer of 2017 in boxing was that it spelled the end for a solid crop of fighters from an era that will be appreciated more so in the future in my opinion. No more will we see the likes of future 1st ballot hall of famers such as Mayweather, Ward, Wladimir Klitschko (64-5, 53 KOs), Cotto, and Juan Manuel Marquez (56-7-1, 40 KOs). Other borderline hall of famers and really good fighters includes Timothy Bradley (33-2-1, 13 KOs), Robert Guerrero (33-5-1, 18 KOs), and Jean Pascal (32-5-1, 19 KOs). The careers of Pacquiao, Gonzalez, and Orlando Salido (44-14-4, 31 KOs) are still up in the air, but it's clear that their best days are behind them, even if they so choose to continue.
We pay homage to those retiring for their dedication to the sport, commitment, and excellence they displayed in the ring over the years. Thank you and congratulations!
With that sad, the future of boxing looks to be in good hands and on solid ground. Budding stars like Crawford, Anthony Joshua (20-0, 20 KOs), Lomachenko, Keith Thurman (28-0, 22 KOs), Errol Spence, Jr. (22-0, 19 KOs), Deontay Wilder (39-0, 38 KOs), and the Charlo brothers (Jermell & Jermall) to name just a few, look to carry on the torch.
There are solid fights already slated for the first quarter of 2018, and a bunch of talent in a number of weight classes (115, 126, 135, 147, 154, 160, 175, and heavy), so the competition and entertainment possibilities are endless.
Let's build on 2017 and keep the pulse of boxing beating loud and strong!
My 2018 Pound-for-Pound List
1. Terrance Crawford
2. Vasyl Lomachenko
3. Gennady Golovkin
4. Saul Canelo Alvarez
5. Mikey Garcia
6. Keith Thurman
7. Errol Spence, Jr.
8. Sergey Kovalev
9. Srisaket Sor Rungvisai
10. Guillermo Rigondeaux
Honorable Mention: Leo Santa Cruz (34-1-1, 19 KOs), Anthony Joshua (20-0, 20 KOs), Deontay Wilder (39-0, 38 KOs), Juan Francisco Estrada (36-2, 25 KOs), Jermell Charlo (30-0, 15 KOs), Jermall Charlo (26-0, 20 KOs), Erislandy Lara (25-2-2, 14 KOs), Jorge Linares (43-3, 27 KOs), and Oscar Valdez (23-0, 19 KOs).