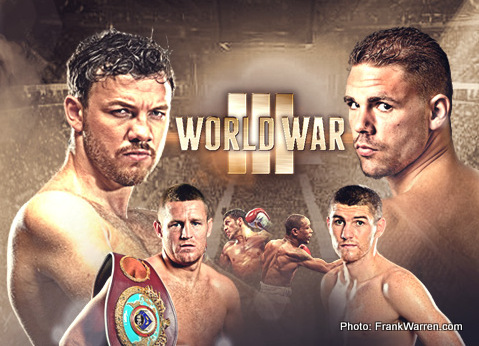 The fabled 'luck of the Irish' has hardly been with the Emerald Isle's WBO middleweight champion Andy Lee – or for that matter, with veteran British promoter Frank Warren, ahead Lee's much-anticipated clash with Hatfield's mandatory challenger Billy Joe Saunders – that was due to take place in Manchester, England, on Oct 10th.
The fight has now had to be postponed AGAIN, after already moving back 3 weeks from Limerick, Ireland (Lee's hometown) – ostensibly due to a 'virus' suffered by the champion – and following this second unfortunate drama – a cut sustained by Saunders in sparring -it looks like fans will be waiting until NOVEMBER to see them get it on.
Today's drama had stemmed from the following tweet from Frank Warren;
"A formal announcement regarding a change to the WW3 event in Manchester will be made later today by Frank Warren."
Since that time social media has been awash with speculation regarding a possible replacement opponent in Lee's fellow Irishman, Gary 'Spike' O'Sullivan, who has taken to tweeting messages from his 48k followers and fans supporting the idea.
Sadly for the likable O'Sullivan he is not ranked in the top #15 by the WBO, so would have been unable to be sanctioned as a challenger according to governing body rules.
The OFFICIAL announcement regarding the postponement until November, is expected shortly, after Warren said hours after the above tweet.
"Unfortunately Billy Joe Saunders suffered a cut in training and his fight against Andy Lee will be postponed until late November and we'll be making an announcement about it later.
"The show will still be going ahead and it's a great show with two world title fights and we are working on another world title fight to go on the bill."
Twitter @Undilutedpoison