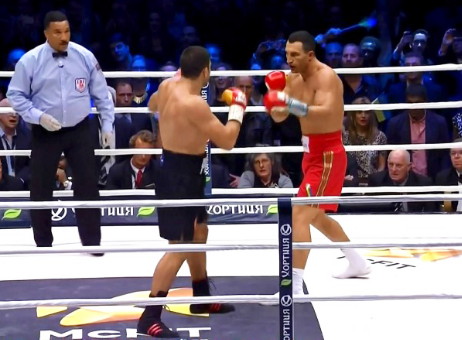 The audience at the O2 arena was roaring with excitement and there was huge support for the challenger Kubrat Pulev who was a visitor at Klitschko's home turf. The valiant Pulev jumped right at Wladimir from the opening bell and tried to brawl with him at close at middle range. Klitschko did not back down and after some wrestling and jostling for position he found "the frequency" and exploited a big opening in Pulev's defense.
Pulev kept his right hand up but too far forward inviting Wladimir to throw left hooks. Klitschko was cautious at first watching out for traps but tested the opening, connected and put Pulev down with a left hook in the first round. "The Cobra" rose quickly and went forward again making the same mistake and Klitschko repeated the exercise with the left hook knocking Pulev down for the second time. Pulev beat the count again and fought back at the champion who tried to finish him in the first round but the challenger survived somehow.
Pulev was shaken and perhaps all game plans were scrapped when he came out for the second round. He was game and cheeky in his attack and offense turned out to be a good defense for him as he made it through the round without going down. His attempts to rabbit punch Klitschko and ruffle him up in clinches bought him some time.
Pulev did not make any adjustments in the third round, his range play and position shifts that worked against lesser opposition did not fool Klitschko. The champion completely outclassed the challenger with superior footwork and better ring orientation. His advantage in fire power made a full size heavyweight like Pulev seem to be in the wrong weight class. There was little size differential between them – identical weight (a pound for Pulev) and similar height and reach but Wlad's right hands pushed Pulev several steps back and another left hook put him down for a third knock down in the fight. The challenger stood up before eight and resumed fighting but he was clearly not the same anymore. He fought in survival mode in the 4th round and made it to the 5Th when another left hook, the punch of the fight for Klitschko, put him down and out. The last shot landed on the cheekbone just under the right eye but Wladimir threw it with such force that Pulev fell on his back and his head bounced heavily from the mat. The referee initiated a count but Pulev made no attempt to get up and seeing his condition the ref waved it off.
The previously unbeaten Kubrat Pulev was a highly anticipated test for Wladimir Klitschko who took him very seriously and actually ate several good shots from him. This time Wlad pulled no shots and did not go easy like he did with Leapai for example trying to please the fans and give them a spectacle. He went full throttle against Pulev and tried hard for a first round KO. A message to the doubters and payback for Pulev's brash talk and allegations, Klitschko still delivered both in a brilliant performance outclassing and out-gunning perhaps the best boxer (after Povetkin) among contenders.