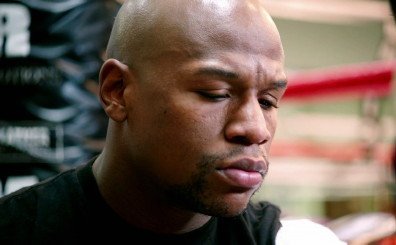 By Robert Jackson: Taking nothing away from Roger Mayweather former world champion and current trainer for P4P #1 fighter Floyd Mayweather Jr, a change of trainers to his father Floyd 'Joy' Mayweather may be a good thing.
Uncle Roger as he's known in the Team Mayweather camp suffers from 'sugar', i.e. diabetes which demands constant attention and lifestyle changes to remediate the harmful effects. Diabetes is a bigger killer than AIDS and Cancer together – worldwide. Roger Mayweather other than being a great trainer is probably the best 'mitts man' in the boxing business. But as far as boxing technique, tactics, and know-how, Floyd Jr. knows how to fight and doesn't need much tutoring during training camp.
Floyd Mayweather Sr., former welterweight contender and trainer of several fighters is a great tactician, technique trainer and has a knack for improving fighters under his tutelage. Case in point, Bad Chad Dawson hasn't been 'Bad' since he parted ways with Mayweather Sr. who saw him to a dominant championship victory over Tomas Adamek. He also oversaw a championship run by Joan Guzman a few years back. Currently Mayweather Sr. is training Andre Dirrell and Philadelphian Mike Jones.
The slick, crafty, defense oriented Mayweather style of fighting originated from Mayweather Sr. who now teaches it to his charges. His #1 student though for the Mayweather fighting style is…and always will be his son Floyd Jr. But in his last fight against Miguel Cotto, Floyd Jr. lost rounds and got hit more than he usually does prompting many to attribute it to Floyd Jr being 35. This writer thinks Floyd Jr. may need an infusion of Floyd Sr's technique training to sharpen his boxing skills returning him to prime level boxing. This tuneup would be similar to one given to a Ferrari or Bentley after so many miles have been put on the odometer.
We all remember that Floyd Sr. was in camp with Floyd Jr. when he returned for the Marquez bout where Floyd Jr pitched a shutout, holding Marquez to a 12% punch landed rate. Sr wasn't as active in Floyd Jr's. camp for Shane Mosley and was kicked out of Floyd's camp for the Victor Ortiz fight. Floyd Sr. is a no-nonsense trainer who leaves no stone unturned and expects his fighters to perform with perfection.
To face the challenges ahead of him including Canelo Alvarez and possibly Sergio Martinez, this writer believes Floyd Jr, needs his father training him – returning him to his technical brilliance in the ring. I also expect that Mayweather Jr. will be much sharper after training with his father for whomever he faces in May 2013. Now here's to hoping they can get along.