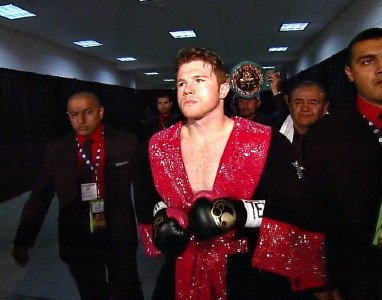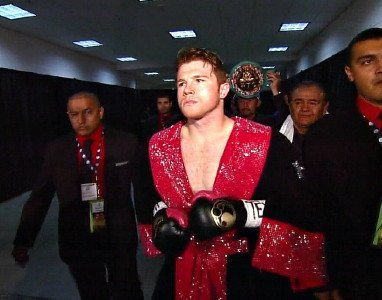 WBA/WBC junior middleweight champion Saul "Canelo" Alvarez wants and needs a fight against Floyd Mayweather Jr. (44-0, 26 KO's) in order for Canelo to transition from being just a regular Showtime fighter to a pay per view fighter. However, Canelo expects Mayweather to go back up to 154 to fight him if he says yes to a fight in September instead of Canelo dropping a little weight and fighting Mayweather at 147.
Robert Garcia, the well-known trainer of Brandon Rios and many other fighters, doesn't think Mayweather should up in weight to fight Canelo because he sees the 22-year-old Mexican as being too heavy for Mayweather.
Garcia said to esnewsreporting.com "Canelo's just too big. Why should Mayweather go up to 154 to challenge somebody that strong and that powerful? If he wants to fight him, then he should come down to welterweight. See if Canelo can do that."
Garcia has a good point. Why doesn't Canelo move down in weight if he's so hard up for the Mayweather fight? It's a case of Canelo wanting the fight more than Mayweather. If Canelo wants it so bad, he should be willing to drop weight to make it happen.
If he doesn't want it that bad then he should quiet down and focus on fighting guys like Austin Trout – again – and do a little better job next time so that the win is more conclusive. It was too close and the judges seemed to be all watching another fight that night.
The problem Canelo won't say yes to moving down in weight to fight Mayweather at 147. A less popular fighter would do it in a heartbeat, but I don't see Canelo agreeing to it because he'll just stand firm about the fight having to take place at 154.
From Mayweather's perspective, why should he move up to fight a larger weight fighter who will likely rehydrate from 154 to well over 170 when he fights him. Mayweather would find himself in with a guy heavier than Andre Ward. I'm sure Mayweather would be much too fast for Canelo and would still give him problems, but with all that extra weight, Canelo would be able to punish Mayweather each time he landed a shot.
If we have scoring like there was in Texas with Canelo getting out-landed, yet still winning the rounds due to his better power, we could in theory see Canelo get a win just because his punches are harder. Of course, they're going to be harder because he might end up weighing as much as a light heavyweight. How is Mayweather at 150 going to punch as hard as a fighter weighing in the 170s? Could Canleo punch as hard as a cruiserweight like Marco Huck or Denis Lebdeev, who out-weigh him by 25 pound?
I think Mayweather should tell Canelo if he wants the fight he has to do it at 147, and if he doesn't want to agree to that then he needs to move on with his career because there's no deal. If Canelo wants to keep calling Mayweather out after that then Mayweather needs to tell him slowly that he needs to move down in weight if he wants to fight him. Canelo really should start fighting guys in his own weight class.
The Austin Trout fight was a good start, but that fight result wasn't nearly as impressive as it could have been because of the wacky scores and the open scoring that let Canelo coast after the weird scores were revealed after the 4th and 8th rounds. One judge had Canelo winning the first eight rounds, and that is so sad. That fight needs to be done over outside of Texas with different judges and no open scoring.