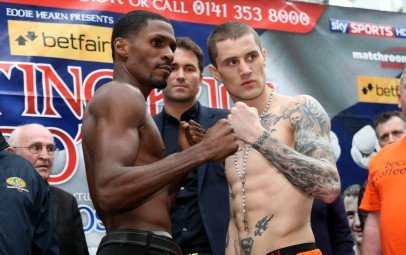 (Photos courtesy PR Best Boxing Promotions/Joel Colon) Billy Nelson, the trainer of WBO lightweight champion Ricky Burns (35-2, 10 KO's) feels that his opponent for Saturday night Jose Gonzalez (22-0, 17 KO's) isn't the puncher that many people think is. In fact, Nelson thinks Gonzalez isn't even as big a puncher as former WBO super featherweight champion Roman Martinez, who Burns defeated by a close 12 round unanimous decision in 2010 to take his title.
Nelson said to RingTV "Ricky has a superb chin and in my opinion Gonzalez doesn't hit as hard as Martinez. To this day, Roman is the hardest puncher Ricky has faced by a long way, but he still couldn't get the job done."
Burns and Gonzalez will be fighting on Saturday night at the Emirates Arena, in Glasgow, Scotland, United Kingdom.
I've seen both Gonzalez and Roman Martinez fight many times and I don't see it like Nelson does. I think Gonzalez is a much bigger puncher than Roman Martinez. It's not even close. Martinez can punch, but he's not a huge puncher and his knockout percentage reflects that.
I think Nelson is kidding himself if he thinks Gonzalez can't punch harder than Martinez. All you have to do is watch 3o seconds of video on Youtube and you can clearly see that Gonzalez is the much bigger puncher.
You can hear the thud of his shots and the reaction of his opponents when they get hit. With Roman, he's more of a boxer with decent power but not really good power.
It's good that Burns' trainer is tooting his horn and patting him on the back with the old attaboy, but the man needs to step back and recognize what Burns is facing in this fight. As Frank Warren said in his column at thesun.co.uk "If Burns gets caught, he'll go."
I totally agree with Frank. If Gonzalez hits Burns on the chin, he'll go. Nelson won't be in the ring to take that shot. The only thing he can do is come in afterwards and be the cleanup crew that drags Burns back to his chair and administers smelling salts.
The Roman Martinez that Burns fought was weight drained from having to drain down to make weight. That wasn't the best Roman Martinez, and even with that, Burns barely won the fight. It was very close and that wasn't Martinez at full strength.